When it comes to what working moms really want in a laptop, it seems like most manufacturers focus on the technical specs. Specs are nice, but I'll be honest, they're not the most important thing to me when I'm shopping for a new computer. My work is, followed closely by this guy.
When Intel and Dell first approached me about working together on a review for the Dell XPS 13 Ultrabook, they led with some taglines and specs, including this callout: "Designed to be the best performing notebook of its size."
Ok, you've got my attention, but I want to know – what makes a laptop high performance? I'm pretty sure my definition isn't the same as what's listed on a spec sheet.
To me, high performance means a laptop can handle everything I throw at it for both work and family.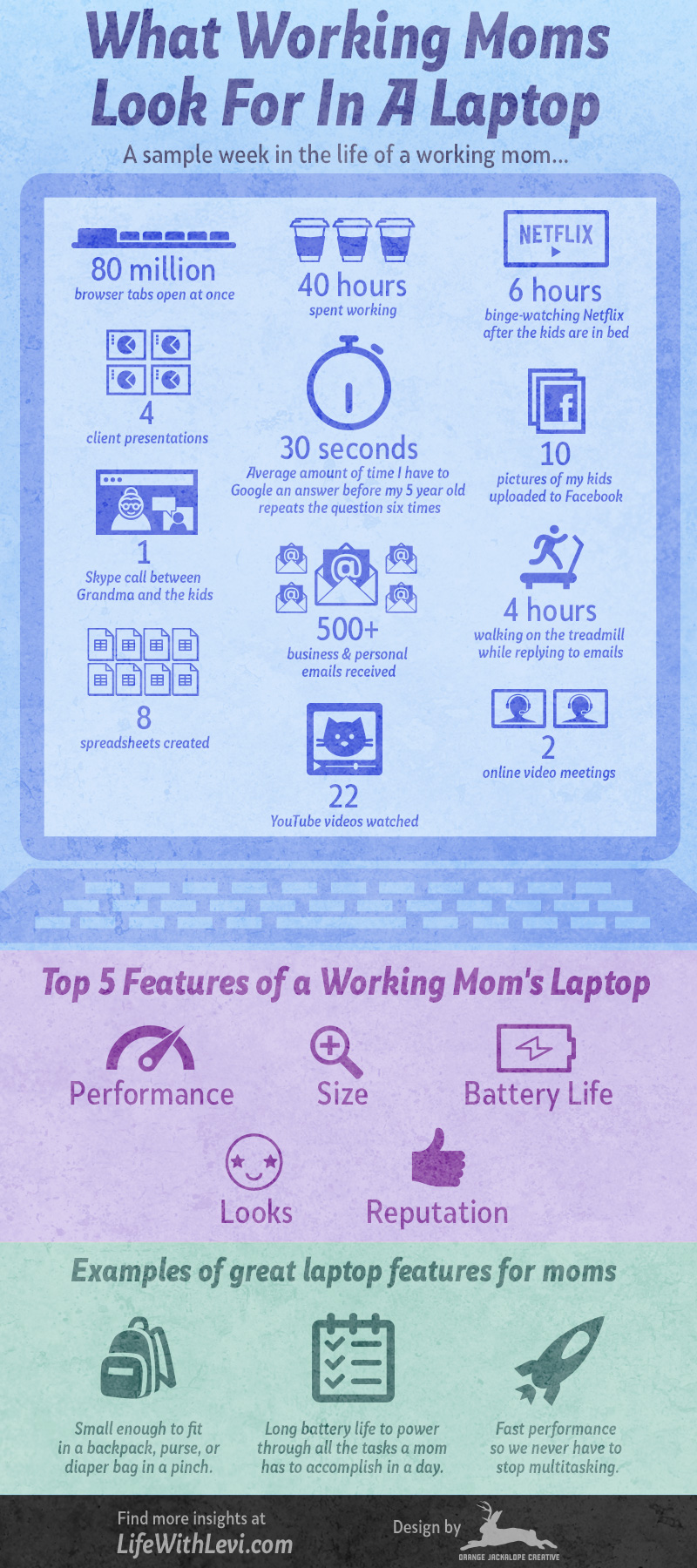 Shopping for a new laptop sucks
I don't know about you guys, but when I have to shop for a new laptop (which I've done more than once in the past few years), I get overwhelmed with the choices. I don't understand all the specs, so I feel lost figuring out how much I actually need to spend to get a machine that does what I want it to.
As a working mom, I feel like my laptop is my life. If I had to choose one device that's the most important to me, it would probably be a tie between my computer and my smart phone. Without them, I wouldn't be able to work and put a roof over my family's head.
Despite that level of importance, I feel like my needs are relatively simple. When it comes down to it, 90% or more of my time I only use 4 programs on my laptop: Chrome, Word, Excel, and Skype. Most of the other programs and apps I use are web-based, so I tend to work inside my web browser instead of with desktop applications.
So I know I don't need much in terms of software. But I do want the most bang for my buck. Laptop prices are a big chunk of change. I want something that will deliver what I really need without breaking the bank in the process.
What this working mom really needs in a laptop
What I really need in a laptop isn't clearly spelled out in the product specs – at least not using language I understand. So I've tried to make a list of things that are important to me when I shop for a new notebook computer and how I evaluated the XPS 13 in hopes of helping out others like me who need the features explained in plain English.
Speed
I want my laptop to run fast. How fast? I couldn't tell you a specific speed. Fast enough to keep working without waiting. Fast enough to Google my 5 year old's question about lemurs before he repeats it 6 times because he's 5 and impatience is part of his DNA. Fast enough to load images of my nephew in Florida right away because I wasn't able to fly there for his birthday party. That fast.
The XPS 13 has a Intel 6th generation core i7 processor (4M Cache, up to 3.4 GHz). How fast is that? I have no idea. But I know it's fast enough to do all those things I just mentioned. It's also fast enough to run all the tabs and programs I have open at any given time without slowing down. And it's fast enough to keep up with all the work I do for my clients, my family, and myself.
Size
Unlike my preferences for the bedroom, I prefer a smaller size for my laptop. I remember back a few years ago when I had a laptop with a 10-key on the keypad. The big screen was nice when I watched movies, but otherwise it was heavy and a pain in the *ss to haul around back and forth to the office or to school.
Since I write so much for work, now I know to base my size preference on the keyboard size. I want my fingers to be able to type comfortably without feeling squished. The screen size is more of an afterthought for me.
I like how the Dell XPS 13 split the difference on this – it's considered a 13″ notebook because it has a 13.3″ display measured diagonally, but it's only 11″ wide. With their InfinityEdge display, they're able to fit a bigger screen in a smaller footprint. The XPS 13 is actually the smallest 13″ laptop on the market right now, and it only weighs 2.7 lbs (2.9 for the touchscreen version). Normally I tote it around in my laptop bag, but I like that it's small enough to squeeze into my purse if I'm in a pinch.
Battery Life
Most laptops I've owned have a battery that lasts around 2-3 hours before it needs to be recharged. That's no big deal when I'm working from home, but when I'm traveling around town between client meetings or on a flight, it's a pain to have to interrupt my workflow because my laptop ran out of juice.
This is one area where you will find me singing the XPS 13 praises. The built-in battery runs up to 18 hours on a single charge. That's not a type. EIGHTEEN HOURS. When they sent me the laptop, they also sent along the Dell Power Companion, which is a pretty snazzy device on its own. It can store enough power to charge up your laptop for an additional 10 hours. I've got some business travel coming up, so I'll definitely be packing both so I don't have to worry about finding an outlet while running around airports and trying to get settled into hotels.
Looks
I used to not be so shallow about laptops. I would buy whatever brand I could afford without giving much thought to the design aesthetic.
Now that I'm running my own business and out visiting clients, I care more about the image I project. I want them to have confidence in me. I'm not saying my laptop is going to be a deciding factor when they choose to hire me, but I like being able to show up to a meeting knowing I look good and so does my equipment.
The XPS 13 definitely has some sex appeal going on. On the inside, the UltraSharp™ Quad HD+ display has 4.4 million MORE pixels than regular HD+ (which basically means the display quality is really, really good), plus Gorilla Glass to resist scratches. On the outside, it's made of durable, premium materials. The machined aluminum exterior gives it strength without adding extra weight, but still feels nice and solid in your hands.
Reputation
I wasn't going to include this as a deciding factor in shopping for a new laptop, but it totally is. I've had family members buy cheap off-brand laptops only to have them break or not work correctly after just a couple months. Don't even get me started on the Kindle I bought Levi for Christmas – it was the kids edition and only has 8GB of storage, so it's constantly crashing because that's not really enough space for all the books & apps that load from their Freetime service. I'm still kicking myself for not spending a little more to get one with more storage space.
When I'm spending the kind of money I do on a laptop, I want to know I'm buying from a brand that I can trust. Although the XPS 13 is the first premium laptop I've owned from Dell, in the past I spent over 9 years working at an office where our entire computer lineup was from them – desktops, laptops, and tablets.
The laptop features working moms *really* need
The features this working mom really needs aren't normally spelled out in plain language on a laptop product listing, but that doesn't make them any less important.
Speed
Size
Battery Life
Looks
Reputation
I'd love to get other moms' feedback on my list – did I get it right? Miss something you think is extremely important? Let me know!