As many of you know, I'm lactose intolerant. So I love it when I come across vegan baking recipes, since they are already dairy-free.
Unlike my regular pie crust recipe, this vegan pie crust is dairy-free and egg-free. Best of all, it's still nice and flaky!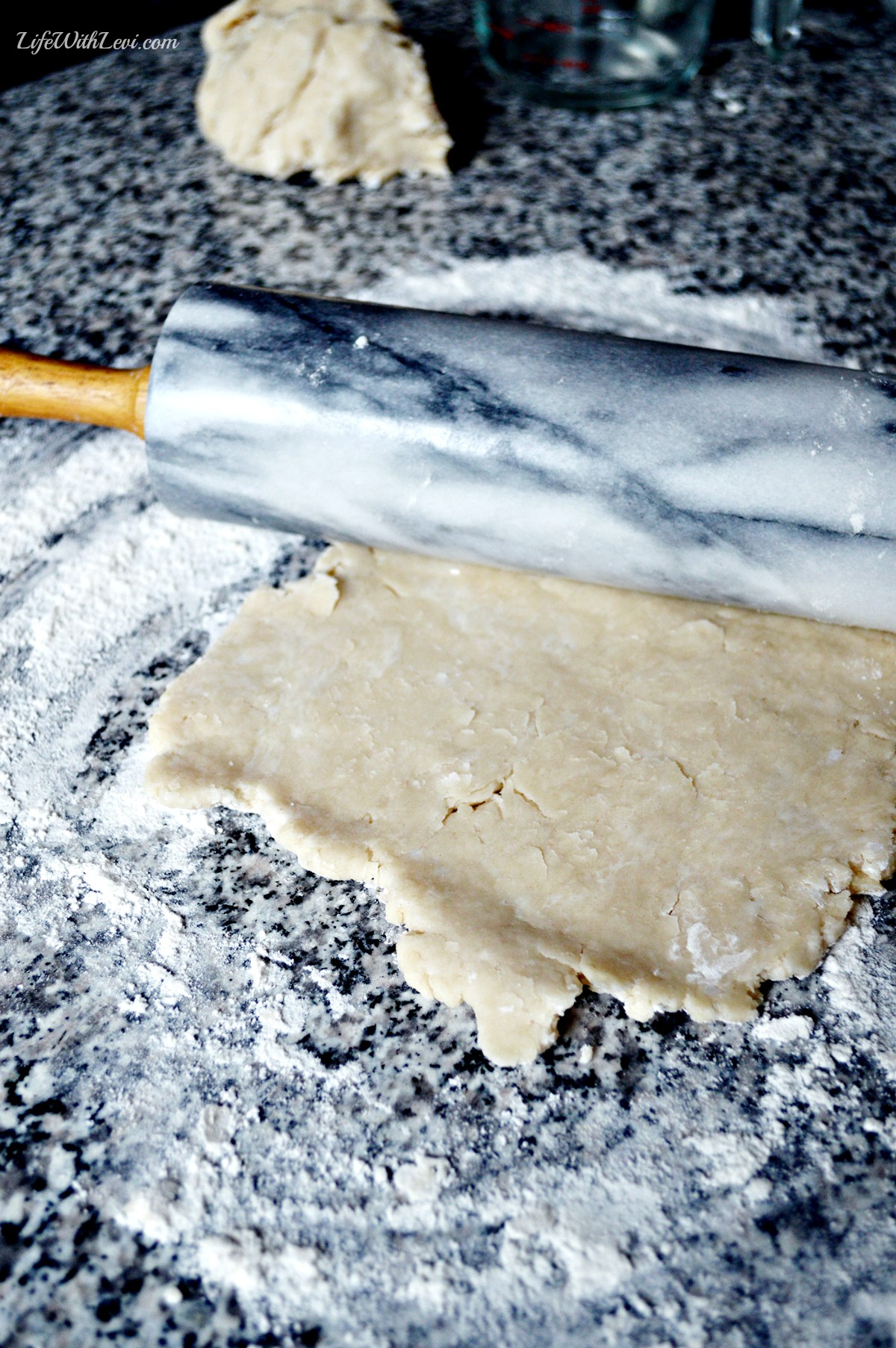 Vegan Pie Crust
Ingredients:
2 ¼ cups all-purpose flour
½ cup coconut oil, chilled to a solid (fill your measuring cup with the oil and place in the freezer until solid)
1 teaspoon salt
1/3 – 1/2 cup ice cold water (you can put the entire measuring cup in the freezer to help ensure it's really cold. Just don't let it freeze all the way.)
Directions:
Start with a clean, dry surface. Lightly flour to prevent stickiness. Combine the flour & salt, mixing gently with your fingers or a fork. Add the cold coconut oil into the mixture in small chunks, working quickly to avoid melting the oil too much with the heat from your hands.
Add in the ice cold water one tablespoon at a time, working the dough just enough to combine all ingredients so they stick together when you squeeze a fistful.
If needed, add a little more coconut oil or flour to form a rounded dough ball. Dust the surface with flour again, then split the dough ball in half and roll out with a rolling pin. Don't roll it too thin – a thick crust with this recipe turns out fantastically flaky, almost deep-dish style.
Fit the bottom layer into a standard pie plate, forming it down so it fits snuggly. Add your filling, mounding slightly in the center.
Place the second half of the pie crust on top, fold the edges under and press together where needed. Bake as directed based on the filling used (generally about 30 minutes at 375 or until the crust has started to lightly brown). Allow to rest for 5-10 minutes, then serve warm and enjoy!
TIP: This vegan pie crust recipe is best enjoyed fresh from the oven. Reheating does take away from the delicate and flaky nature of the pie crust.
Like this recipe? Please share!
[tweet_box inject="#dairyfree #eggfree" design="default"]Just in time for the holidays – check out this Vegan Pie Crust Recipe[/tweet_box]