I was provided with a promotional item by Coupons.com . All opinions have not been influenced and are my own.
I can tell you exactly what day my relationship with Mr Grey became "Facebook Official."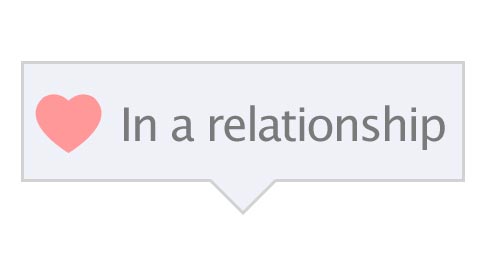 It was August 21st, over a month after he had moved in with me. For some couples, changing their Facebook status is an important part of falling in love. For us, it was something we kind of forgot about along the way. We were too busy falling in love with each other face to face.
A few weeks before making it Facebook Official, I had posted my meet-the-boyfriend reader interview here and finally shared his real identity with you guys. Part of the mystery was because I wanted to make sure things were serious before "announcing" anything. A bigger part is because we both have kids and wanted make sure anything that we posted we'd be comfortable with them finding out from friends or family – once you put something online, you can't get it back.
Of course, our close friends & family already knew, but it was still fun to "announce" our relationship to the rest of the world. I imagine it's kind of like how a girl in the 80's felt like when her boyfriend gave her his letter jacket to wear around campus.
Two Valentine's Day Giveaway
Coupons.com is celebrating true love this Valentine's Day with two great giveaways. If you have a "Facebook Official" story like we do, you can visit their Valentine's Day Deals page and click on the sweepstakes link at the top for your change to win a dream vacation.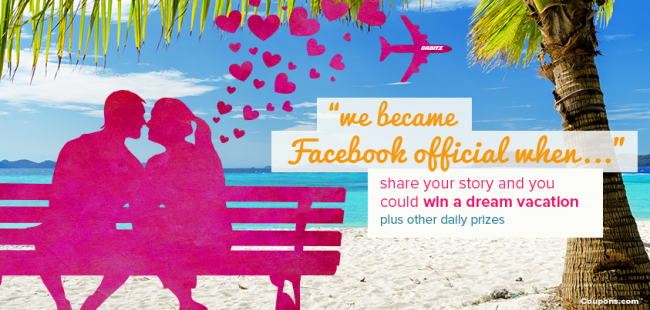 You can also enter right here to win a $200 gift card to help celebrate Valentine's Day with your favorite sweetie this year. I love that one of the prize options is a Toys R Us gift card for those of us that'll be celebrating with our kids!
Just enter using the easy Rafflecopter form below. Giveaway ends February 14, 2014. Open to US only.
a Rafflecopter giveaway