If you're like me, you didn't think about dental hygiene when your child got their first tooth. It's hard to imagine brushing the teeth of a four-month old, right? Spiffies Toothwipes are a great way to introduce dental habits at an early age.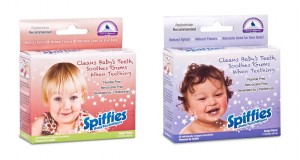 These wipes are easy to wrap around your finger and quickly swipe off anything that could cause tooth decay (juice!) on young teeth and remove bacteria from the mouth. Recommended for children 3-18 months, these wipes help babies become familiar with cleaning the mouth, which will be a huge help when brushing begins. Spiffies are individually wrapped and come in three flavors–apple, grape, and mango. Each wipe also contains Xylitol, a natural sweetener which I know my dentist's office recommends to help prevent tooth decay and cavities.
My son has been trying to brush his teeth, but he mostly just sucks water off the toothbrush and you can forget taking the brush off him to help out, so I figured Spiffies would be a good way to make sure his teeth are clean after each "brushing". He tried out the apple flavor and really seemed to enjoy letting me wipe his teeth. Even my 3 year old asked to help test out these wipes and said her teeth felt really clean afterwards. To be honest, I was curious once they said it was good, so I gave my teeth a wipe and enjoyed the flavor and the clean feeling, too!
Personally, I really love the options of these towelettes for cleaning my kids' teeth and will continue to use them as I ensure the brushing they are doing is really working. The only thing I worried about with these wipes is that Evan would bite my fingers (he's been in a biting phase lately); however, this hasn't been a problem yet. Love the fact that the wipes can be used on a snoozing baby post-nursing, or on the go without water (just make sure you have a way to clean your hand–you will get a little sticky). Also, Spiffies recommends these wipes to soothe gums while teething–just pop one in the fridge for 30 minutes and wipe sore gums!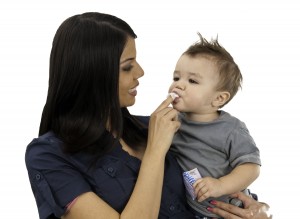 Spiffies also has a line of products for toddlers and older children, including an Ari-approved (safe-to-swallow) toothpaste for when the time for real brushing comes around. If you are interested in giving Spiffies a try, I recommend the Spiffies 15-count Sample Pack for $5.99.
Disclaimer: I was provided a box of Spiffies to test out and all opinions (and biting fears) are 100% my own.