As a mom who is constantly trying to make healthy food choices for myself and my family, I always appreciate it when I am able to find snacks that are *actually* healthy.  Many products are touted as "health" food these days – but when you actually look at the list of ingredients, it's unpronounceable chemical after unpronounceable chemical!  NOT HEALTHY.
And yet, more often than I care to admit, when I am in a hurry to get out of the house and need to bring a snack for the kids I usually find myself grabbing some sort of pre-packaged crackers or "fruit snacks" (that don't actually have any fruit in them) because they're just so darn convenient.  I know I should bypass the "fruit" snacks for a real apple instead – but the thought of cleaning apple remnants out of every crevice of the backseat of my car just does not appeal to me.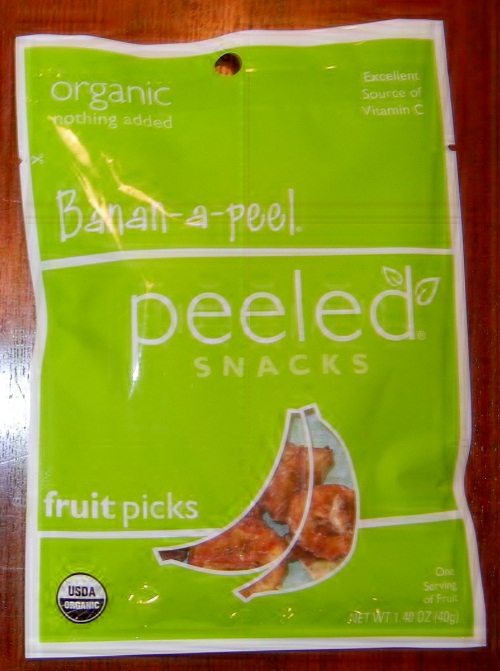 Friends – my problem has been solved.
Peeled Snacks are organic, dried fruit…in a convenient package that's easy to bring along anywhere we might go.
I know how to eat healthy (I also know how to eat unhealthy – in fact, I'm quite good at it – but that's neither here nor there!), and as I've mentioned, I'm a label reader.  These snacks appeal to my health-conscious, label-reading self.
The ingredient list is short and sweet.  The only ingredients are the actual fruit.  My bag of dried cherries consisted of…dried cherries.
Not only are they organic and free of fillers, preservatives, and unpronounceable chemicals…but they're good, too.  And the baby agreed…I cut the mangoes into little pieces and let Claire have some.  She couldn't get enough.
My favorite was probably the Much-ado-about-Mango (that was Claire's favorite, for sure!), but Cherry-go-round and Pine-4-pineapple were a close second.
Also included in the samples that I received were Peeled Snacks appleclusters – these were crunchy balls of dried apples in plain apple flavor, apple cinnamon, and apple berry.  They were all tasty (a great substitute for potato chips or any other unhealthy, crunchy snack) – but the apple berry flavor was extra good.
You can find Peeled Snacks at several large chain stores – Whole Foods and CVS, to name just a couple.  They are also available at Starbucks, and now that I know this my son might be out of luck next time we're at Starbucks and he's begging for a cake pop (I'm sure he'll really take the news well when I tell him he's getting dried apples instead of a birthday cake pop…).
You can visit the Peeled Snacks website and check out all of the different fruits available.
Peeled Snacks is on Facebook and twitter, too!
Disclosure: I received Peeled Snacks to try for this review.  The opinions, however, are 100% mine!