Remember those Nair commercials from the 80's?
I wasn't old enough to worry about leg hair in the 80's, but I remember the commercials. The ones they had in the 90's weren't much better, but they worked. Like most teens, I was self-conscious about my looks, especially my body hair.
My whole life I've dealt with the stages of mediterranean body hair grief:
Denial: All my friends have fine, light hair. They don't wax their arms. I'm not going to. That would just be weird. And painful. I'm not subjecting myself to molten torture just to conform with society.
Anger: Lesson learned – kids are cruel. To this day, I still remember two girls that taunted me in 7th grade over my arm hair. "Jenni-fer? We should call you Furry-Jen instead." F*ck you Laura & Jessica.
Bargaining: I can deal with the hair on my arms as long as I keep my legs super smooth. Please God, if I shave my legs every single day, will you please make sure no one notices my arms?
Depression: Shaving sucks. It takes forever and razor burn hurts like a b*tch. I tried that Nair stuff and all it did was burn and stink up the bathroom and didn't get rid of the hair on my legs.
Acceptance: I can live with wearing jeans year-round. I live in MN after all. It's not like our summers last that long anyway. And people who have issues with arm hair are dumb. I'm not even going to waste my time worrying about that anymore.*
*That's only partially true. I'm 31 and I'm now researching laser hair removal for my arms because I want to get more tattoos. But that's more about wanting to show off my ink, though there's definitely some self-consciousness still mixed in there.
Ok, so now it's 2015, and guess what commercials are still on TV?
Max formula. Moroccan argan oil. Modern women. If their commercials have advanced so much, it only stands to reason that their product formula has too, right?
Last week we were at Target, and I picked up a bottle of Nair. It was like $9 or $10, but I figure if does the work of shaving for me, it's worth it.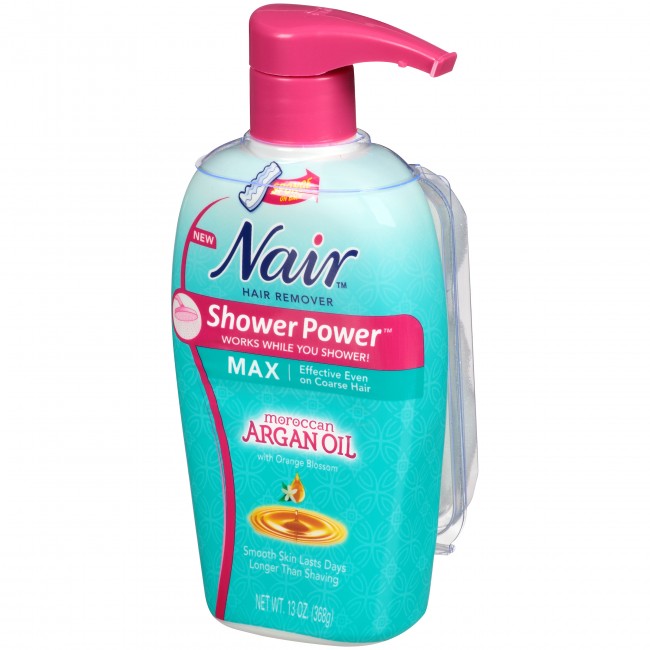 I get home, I read the directions, and I get to trying it out. You're supposed to use the included sponge to apply a thick layer without rubbing it in. How thick is thick? Your guess is as good as mine, so I slather it on like Cool Whip on a pie, contorting and cursing my way through application.
The first thing I notice is that it doesn't smell nearly as bad as I remember. The bottle says to leave the cream on for at least 2 minutes before getting in the shower, but no longer than 10 minutes. Around minute 7 it starts to burn a little, so I test a spot to see if it's working.
Nope.
I check the bottle. "Effective even on coarse hair."
I wait 3 more minutes, then rinse and scrub my legs with the sponge like the directions say.
Those lying liars.
Now I'm out $10 and about 15 minutes. You know what I could have done in those same 15 minutes with a lot of twisting and bending?
That's right – I could have shaved my goddamn legs. Plus I would have had $10 to spend at Starbucks so I'd be properly caffeinated for the task.
You got me Nair. Your commercials with short shorts and bikinis and legs that go on forever that look nothing like my own convinced me to give you a shot.
I learned my lesson and I'm going back to what works.
Maybe I'll try you again in another 15 years.
As a member of a very cool team of influencers for Verizon Wireless, I received compensation to share a story about a time in my life I had #SwitchersRemorse. Nair has no idea I decided to write about them, but I hope they read this and make a formula that works more effectively for self-conscious Italian women like myself. Because I HATE SHAVING MY LEGS AND WILL GIVE YOU ALL MY MONEY IF YOU MAKE THAT GO AWAY FOR ME.
Also – if you have ever switched phone networks and later regretted the decision, Verizon will totally take you back. They even have a deal running right now where you can get up to $300 when you switch. Check out all the details on the Verizon website.