I scream, you scream, we all scream for… Chuggington!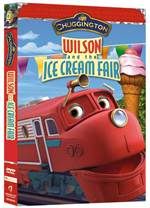 Who doesn't love Chuggington? And who doesn't love ice cream? 🙂
Levi really enjoys watching Chuggington, and of course he loved watching trainee Wilson make a special delivery to the ice cream fair and prevent a massive ice cream meltdown on the hottest day of the year! Jason loves to spoil Levi with dessert, and I'm sure Levi enjoys it. (Personally, I prefer to serve fresh fruit for dessert, but Jason overrides me since HE prefers ice cream, too.) Dessert wars aside, this Chuggington DVD is packed full of fun and adventure that is sure to make everyone scream for ice cream!
One of my favorite things about Chuggington is that the episodes are something we can all enjoy as a family. Levi likes the bright colors and the train whistles, and Jason and I both enjoy the story line. In fact, Jason was a bit jealous that we don't have a Mr Frostini in our neighborhood.
Right now, LUIGI'S® Real Italian Ice packages feature a coupon for $2 off on the purchase price of the new title or any other "Chuggington" DVD. In addition, those who purchase a "Chuggington" DVD and any Joy Cone brand 42 count Mini-Cups or 18 count Color Cups from May 1 to October 30, 2012, will be entitled to receive a FREE Frostini die-cast train from TOMY! Shipping & Handling charges apply.
Want to win your own copy of the Wilson & The Ice Cream Fair?
Just enter using the easy Rafflecopter form below.

Open to US only. Ends 06/29.
a Rafflecopter giveaway
Disclosure: I received a complimentary copy of this DVD for the purpose of having fun with Levi and arguing over dessert with Jason this review. All opinions are 100% my own.