Confession – comic book movies aren't my thing, so I sent Mykl off for boys night to see Guardians of the Galaxy without me. Keep reading for his full review of the film.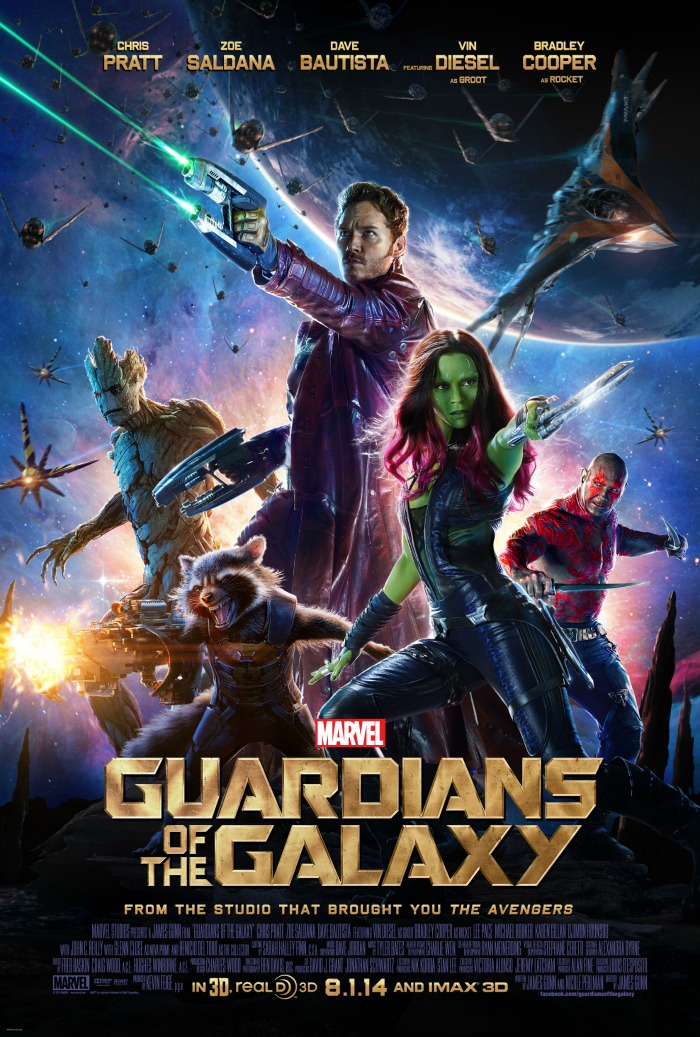 Mykl's take on Guardians of the Galaxy:
Now, my Marvel knowledge is limited to mainstream superheroes and stops just shy of knowing who that dude with the arrows is in The Avengers. Arrow Man? The Green Arrow? Still not sure. Seriously, who is that guy?
In any event, I had been reading about Guardians of the Galaxy for months online and the steady stream of trailers and teasers had me counting down to the August 1 release date. Thanks to my awesome girlfriend, and her inexplicable lack of interest in awesome sci-fi movies, I got to see an advance screening last week.
It offers the perfect side-entrance to the rapidly growing the Marvel Cinematic Universe. I enjoyed it completely, despite have little knowledge of the comic books it was based on.
The premise is easy to follow: A human taken from Earth as a child forms an uneasy alliance with a group of extraterrestrial misfits who are on the run after stealing a coveted orb. Their exploits form the origin story of this rag-tag group of unlikely heroes.
The sense of the Old West in space, a cocky leading man with charm as well as the skills to save the day, and LOTS of humor all resonated with the Firefly fan in me. But it was all done in a way that wound up feeling fresh and new.
The action scenes were captivating and exciting — utilizing everything from the expected space vehicles (but often with some fun twists) to good old-fashioned hand-to-hand combat. But as much visual goodness was on display, and there was plenty, this is truly a character-driven story.
Chris Pratt is fantastic as leading man Peter Quill/Star Lord. Rounding out the Guardians are Zoe Saldana as Gamora (a nod to green Star Trek girls) and Dave Bautista as Drax the Destroyer (think red Hulk with Vulcan literal-mindedness), but the real stand-outs were the virtual characters.
Vin Diesel provided motion capture and voice for the tree-like being Groot, who can only say "I am Groot" but manages to convey quite a bit in doing so. My favorite, and that of every other kid at the screening, was Rocket, a badass, genetically-enhanced raccoon voiced by Bradley Cooper. I drank up every second of his screentime, and there was a lot of it.
Notable supporting performances were turned in by Michael Rooker (Walking Dead), Karen Gillan (Dr. Who), John C. Reilly, Glenn Close, and Benicio del Toro.
I have to mention the soundtrack, comprised almost entirely of eclectic 70s hits from a mix tape Peter's mother made him as a child. It's his last connection to the world he left behind and, along with his vintage Walkman, one of his most priced possessions. The music carries the movie almost as much as the cast. You wouldn't think Hooked on a Feeling or Come and Get Your Love would be the perfect accompaniment to a saga set light-years away, but you'd be wrong. Brilliant addition to an already clever joyride of a film.
I regretted not bringing the kids. At 8 and 12, my girls would have loved it.  They hit the perfect balance of offering something for young and older audience members. The violence was not graphic and there was no strong language. The very few sexual innuendoes were fairly tame and obtuse enough to not result in awkward conversations in the car on the ride home.
Go see it, bring the kids, buy the soundtrack, and enjoy. It's good fun for everyone. I might even convince Jen to go see it again with me.