Mr. Grey (Mykl) and I attended an advanced screening of Finding Dory for date night earlier this week. Enjoy his spoiler-free review!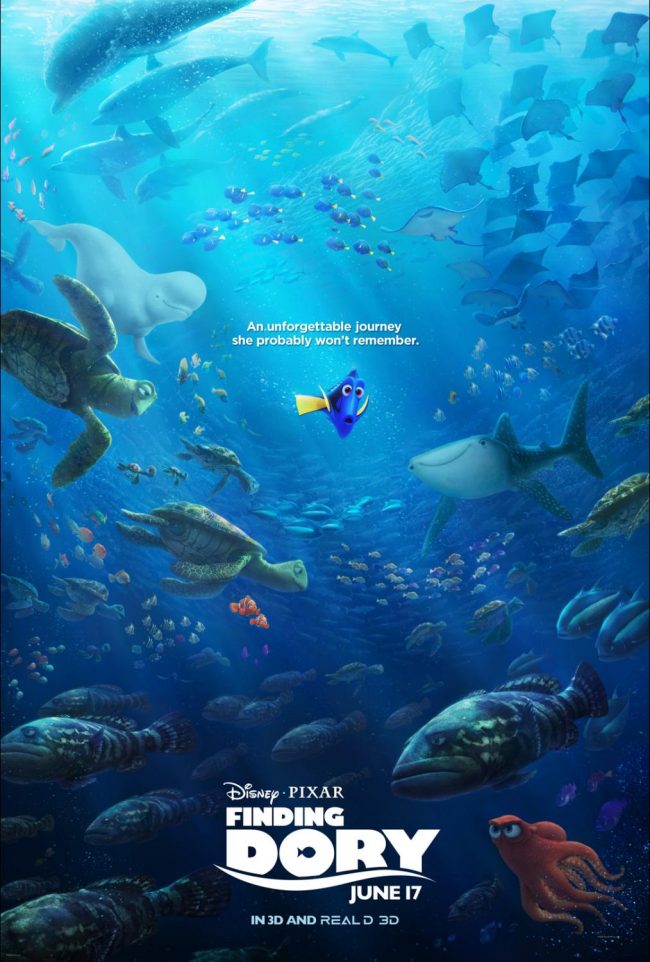 A little back story
13 years ago, a friend of mine who's first-born was only a few months old shared his experience of seeing Finding Nemo. Specifically, the first few harrowing minutes when Marlin's wife and all but one egg (Nemo) was lost in the blink of an eye.
This was a bit too close for comfort for my friend to imagine losing his new family so suddenly. Thankfully the movie's remaining 90 minutes worked to make up for such a rough beginning.
Fast forward to 2016
I was reminded of this during the opening of Finding Dory, which picks up the story a year after the events of the first film. Through a series of flashbacks, we learn right away that Dory has lost her family and is just starting to remember clues that might lead her back to them. Marlin (Albert Brooks) and Nemo (voiced by Hayden Rolence this time) lend their fins to help and thus begins another epic adventure under the sea.
Dory (Ellen DeGeneres) is the real focus of this film. We learn much more about her back story, motivations, and ultimately her effect on those around her. If you're looking for a strong female role model this summer, Disney's found her for you.
Journey vs destination
Unlike Finding Nemo, the destination (not the journey) is where the bulk of the story takes place. That destination being the California coast and a marine animal rehabilitation center.
It's worth mentioning the animation feels light years ahead of the original. New ways to render light is the cornerstone of the new tech Pixar brings to bear here. The water itself is breathtaking and shot after shot makes you feel like you are truly a part of this world. The transition to more surface environments this time around is seamless and just as detailed. Many of these techniques are highlighted in the better-than-photo-realistic opening short Piper.
Finding Dory includes most of the same characters living at the reef we grew to love from the first film, plus a large group of new aquatic faces who will surely swim their ways into your heart. Some of these new characters live above the water including sea lions, loons, and otters. The sea lions steal the movie, in my opinion, easily displacing the seagulls (Mine! Mine!) as some of my favorite secondary characters from this world. Levi's current favorite animals are otters, so I would be remiss if I didn't give them a shout out for their brief but valuable contribution as well.
A new face we see more above then below the waves is Hank (Ed O'Neill) the octopus, a master of camouflage. One of most complex characters Pixar has animated, he stays true to the actual movement of a cephalopod, while exhibiting a full range of emotion all without a visible mouth.
Finding Dory: Final verdict
Though thoroughly enjoyable as a sequel, Finding Dory can stand alone as a fully realized movie. That's pretty rare in any sequel, especially one as eagerly anticipated as this one. But who among us under the age of 13 has not seen Finding Nemo? True fans will love this, and like most Disney Pixar releases, so will their parents.
The PG rating is for "mild thematic elements." This mostly involved a few clips of a scared and forgetful young Dory making her way alone after losing her parents and one short scene with a creepy, glowing octopus. Nothing too scary for young tadpoles.
Bonus tip
Trust me, you don't want to leave the theater too soon when it's over. Settle in after the closing credits begin (after the find-the-octopus segment) and stay for the mesmerizing ascent through a kelp forest and a not-to-miss bonus scene after that.
Watch the Finding Dory trailer: