When it comes to cell phones, I get giddy every time I get my hands on a new one, especially when it's something I've had my eye on like the Moto Z Force Droid.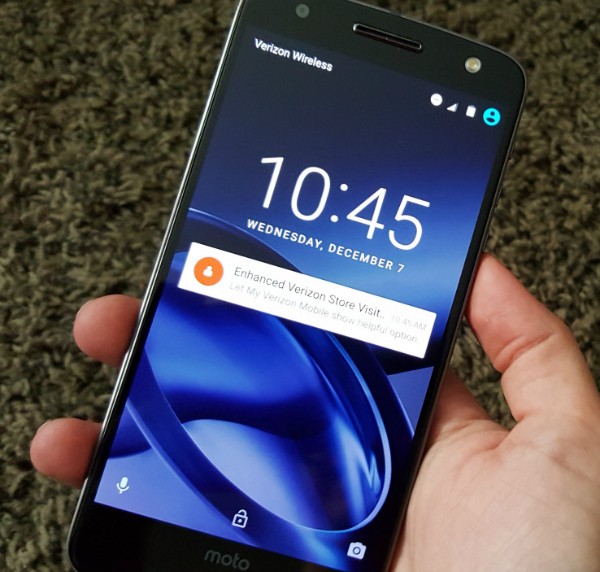 And to be honest, it wasn't the phone that first caught my eye. It was a movie playing on the wall behind the Verizon table at
MN Blogger Conference.
That's what got me interested, so I wandered over to see why they were playing a movie on the wall.
That's where things got interesting. They had the Moto Z set up with various mods for us to check out, including the Projector Mod that was running the movie. I've got 3 kids and own 2 businesses. A projector that snaps on & off is totally something I want to learn more about.
But I'll save the mods stuff for another post. This is an overview of the phone itself, which Verizon was so kind to send me to test out.
Moto Z Basic Specs
32 GB storage space (64 GB also available)
Multiple color choices
Weighs just 5.75 ounces
5.5″ display screen
2.98″ wide x 6.14″ tall
Qualcomm® Snapdragon™ 820 processor
Moto Z Highlights
The Moto Z Force Droid has a 2nd Generation Moto ShatterShield™ that is guaranteed not to crack or shatter. ShatterShield is made with military aircraft-grade aluminum and steel, the Moto Z Force Droid also features an advanced water-repellent coating. For those of us that have a bad track record with cell phones (me and the girls have both shattered screens in the past), this screen guarantee is awesome.
My most favorite feature of the Moto Z is the TurboPower. I've had the Motorola Droid TURBO in the past, so I'm a bit spoiled when it comes to battery life. It's kind of amazing how far technology advances in just a couple short years. The Moto Z blows my Galaxy phones out of the water. Not only does it provide up to 29 hours of use without charging, the TurboPower charger takes charging to a new level by giving you up to 15 hours of battery life after just 15 minutes of charging.
15 minutes of charging for 15 hours of battery life? I'm in.
Of course, you don't want to partially charge your phone all the time, since that can mess up your battery. (I honestly forget what it's called, but the basic gist is that your battery "remembers" and slowly loses it's ability to charge to full capacity.) But for occasional use, like when I've got a layover between flights and need a quick top-off so I can watch movies on my next flight, it's a lifesaver.
Plus, it's got a decent camera. 21MP is nothing to sniff at, especially since the Moto Z includes optical image stabilization and laser autofocus. I've found this helps it perform better in low-light situations. If selfies are your thing, the front-facing camera has a 5MP wide-angle lens with extra front flash, so you can get great shots no matter how you're using it.
Finally, one kinda random thing I really like about it – security is easier. I use the fingerprint recognition on my phones to keep them locked, since I have a bunch of personal and business data I need to keep safe if I ever lose my phone. With my Galaxy S6, I have to make sure my thumb is positioned just right if I want to unlock my phone. Not a big deal most of the time, but when I'm out having a few cocktails singing karaoke with Mr. Grey, it kinda becomes a problem. Because I want to take pics and not futz with my phone, I usually turn the screen lock off.
Let's think about that for a second. If I'm drinking and fumbling with my phone, that's probably exactly when I shouldn't turn my screen lock off. The Moto Z is good for clumsy/tipsy folks like me – you can unlock and wake your phone with your fingerprint in any position. Like I said, it's kind random, but it's one of those features I really appreciate because it makes my life easier and helps me not do stupid things like leave my phone unlocked at a bar.
Moto Mods
The Moto Z is the first phone to offer modular accessories that snap on and off with a magnet to turn your phone into a sound system, movie projector, full-on fancy camera, and more. They're so awesome that I've got a whole other post about them.
At first, I thought I'd hate them because it seemed that they'd be easy to break or lose, but nope, they're awesome and super easy to use and snap on/off without breaking anything 🙂 (Says the self-labeled clutz.)
They're so awesome that I've got a whole other post about them. You can check it out here:
Final Moto Z Thoughts
If you're in the market for a new phone, the Moto Z Force Droid is definitely worth checking out. The major selling points for me are:
Big Screen
Massive Battery Life
Great Camera
Moto Mods (to make it even more multi-purpose)
The price is comparable to other top-of-the-line phones. I'd definitely choose this over an iPhone any day.