I've had Minions on the brain lately. Last week I shared my Tipsy Minion cocktail recipe, and now I've got a giveaway for y'all for one of Levi's favorite outdoor toys: the Dynacraft foldable scooter.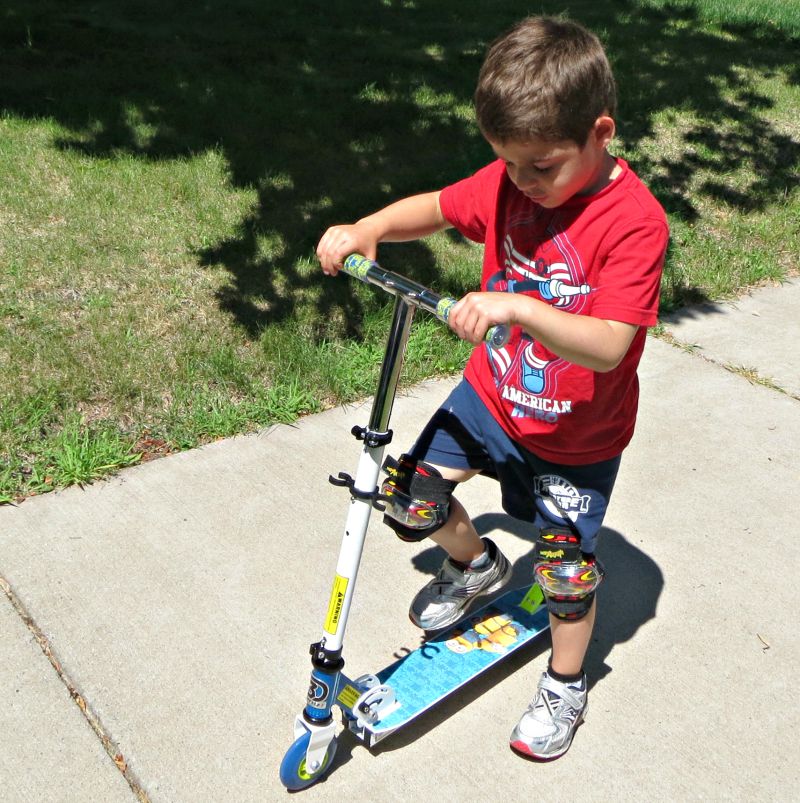 Dynacraft is a US company that's been making bikes pretty much as long as I've been alive (we'll call it 30+ years). They've got a new line of Minions bikes and scooters designed specifically for 5-8 year olds, featuring their classic well-made designs and bright, eye-catching colors. 
They sent Levi their The Minion Folding Scooter, which is perfect since he just turned 5 last month. It has an easily adjustable handlebar with soft cushion grips that adapts to your child's height, and it folds for easy transport to the park or vacation spots.
When the box arrived at our doorstep, he couldn't wait to get his hands on it.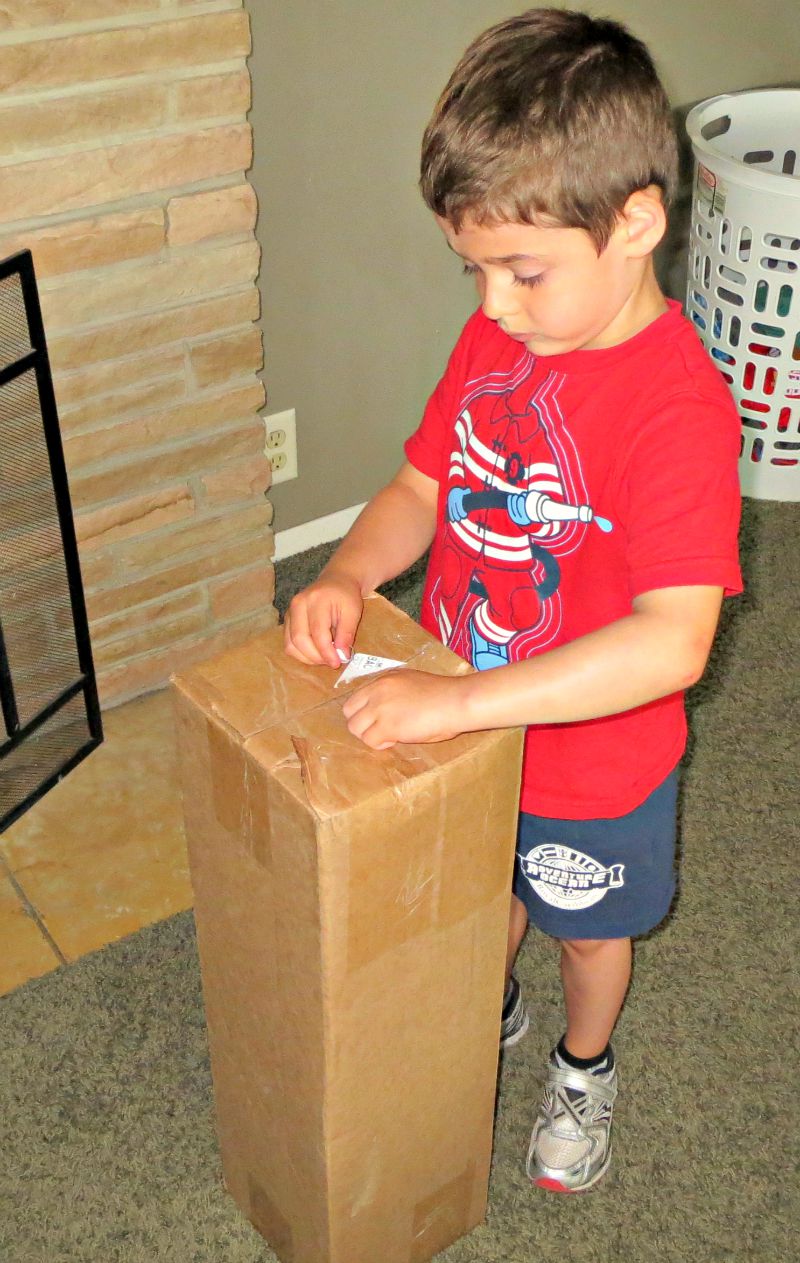 He might have been *just* a little bit happy to find out what was in the box 🙂
The scooter was delivered partially assembled – all we needed to do was pop the handle bars in place and adjust the height once we unfolded it.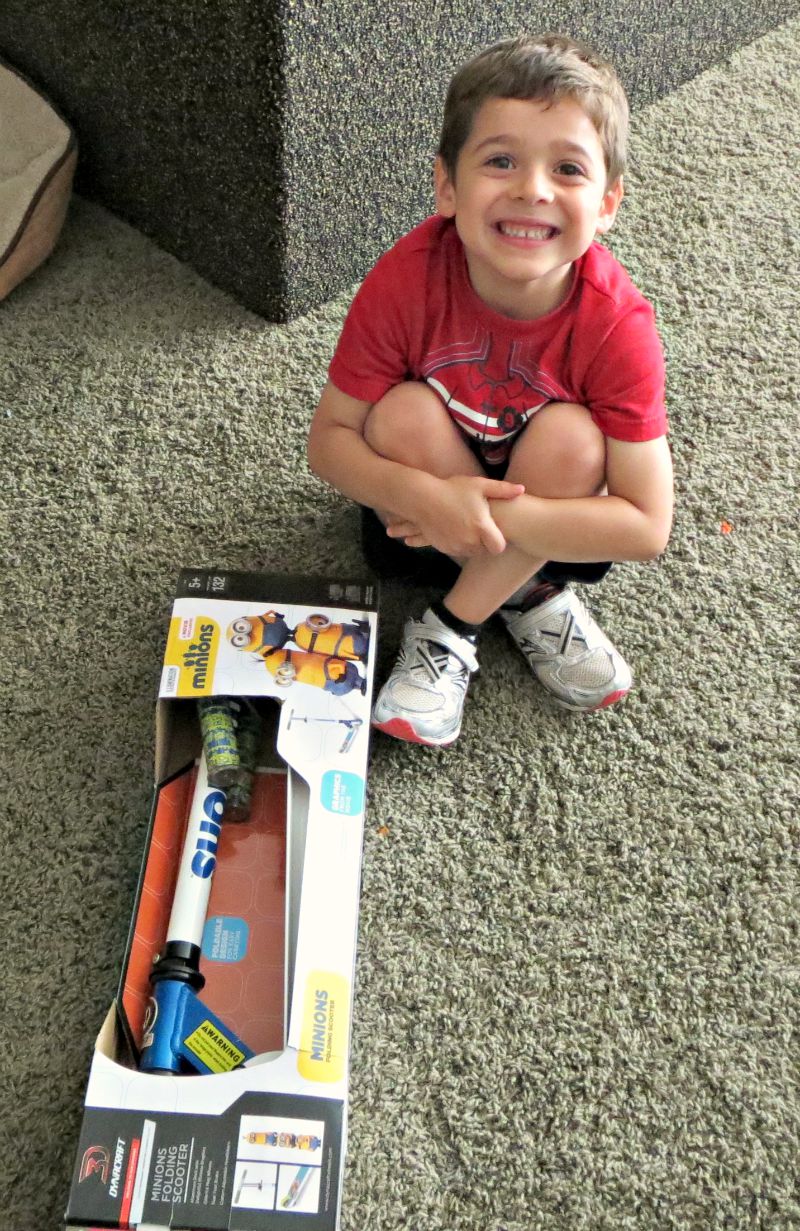 The Dynacraft scooter is one of the lightest I've come across. While the folding feature is nice, it's not something I've used much. Since the scooter is so light, it's easy to just pop in the trunk without folding down, but if you did need to tuck it into a small space, it's nice to have that ability.
Available for a suggested retail price of $49.99 at Toys"R"Us, I think the Minion Folding Scooter makes a great gift idea for the upcoming holiday season.
Win It
One lucky reader will win their own Minion Folding Scooter from Dynacraft!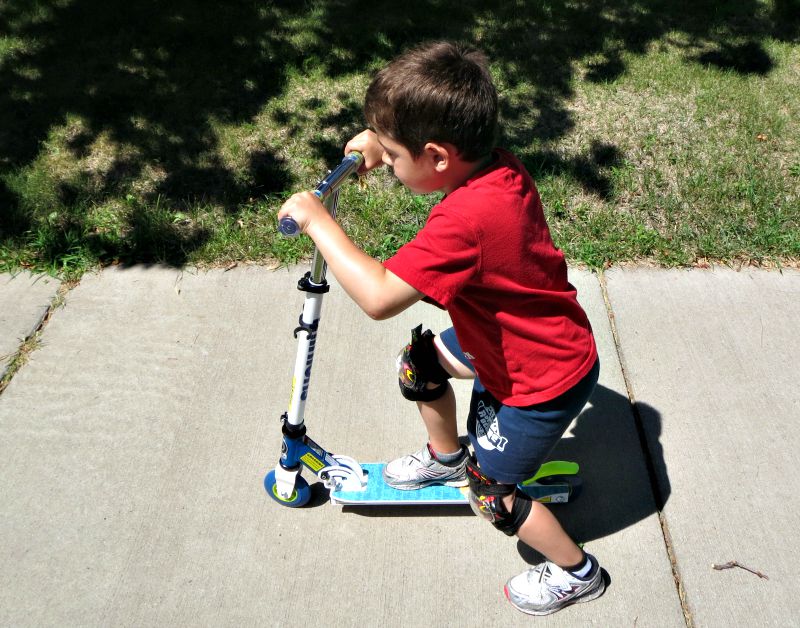 Rules:
This giveaway is open to residents of the continental US.
Winner will be drawn on Saturday, October 3rd, 2015
Prize will be shipped directly by Dynacraft or their authorized agent
Mandatory Entry: Leave an interesting* comment on this post sharing why you like this Dynacraft scooter. (*If you're new here, you might not know that I actually read all the comments. So sure, you could leave a basic comment, but I really, really love it when I can learn a little about you.)
Example: "My daughter LOVES Minions! We've watched Despicable Me at least 857 times. She'd flip over this scooter."
Bonus Entry #1: Visit DynacraftBike.com, browse around, then come back and leave a new comment sharing something cool you learned about them or their products from their website.
Bonus Entry #2: Leave another comment with a Minions joke. Just keep it relatively family-friendly, please.
Each comment on this post counts as an entry. You can share multiple jokes or tidbits you learned about the company from their website, just be sure to do it in a separate comment so you get credited for each entry.