It's hard to explain to kids that the things they imagine aren't really there…especially monsters.
The past few months, my daughter has been giving us trouble with monsters. They are apparently in the kitchen, in the toy room, and on the way to the bathroom. She used to never have any issues with the dark, but things have changed. Now, there are screams of "Monsters! Monsters!" any time she tries to walk through a semi-dark part of the house.
How do you explain to a kid that there aren't monsters? I wasn't really sure, but then I was asked to share Sharon Cramer's "Marlow and the Monster" with my daughter to see if reading a book would help.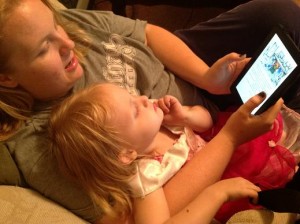 When we read Marlow and the Monster, Ari stared away at the monster and laughed when the monster asked if he turn Marlow's mom into a zombie. She wasn't frightened, and loved his colorful wings. I asked her if she liked the story, and she said she really did–monsters weren't as scary as she thought! Even though the story had a cute ending, this wasn't exactly the reaction I expected, but then I remembered this:
In Marlow and the Monster, Cramer takes the intimidation factor away from monsters and helps children and their parents form a more lighthearted view of these creatures.

 "We don't want to underestimate the reality our children's beliefs and fears," says Cramer, "but we do want to help them understand the role their imagination plays in controlling the things they are afraid of. For instance, maybe their monster is silly and goofy instead of mean and scary."
So, fears are real to kids, and we shouldn't make it seem like they are wrong! I never thought of dealing with monsters this way, but that totally makes sense. And the colorful monster against a black and white background makes sense too–only the kids can see the monster! It's our job as parents to show them imagination is ok, and they can have control of it, too. Reading this book showed Ari that monsters can have a funny side–a good turn of events.
Here are some more tips from Sharon about handling monsters:
Read stories and watch shows that debunk traditional monster fears.
Provide soft lighting in your child's room.
Make a sign and put it on your child's door that reads, "Only nice monsters allowed."
If your child fears the "under the bed" creatures. Put the mattress right on the floor. We do this with Ari and it works great! 
When your child decides they no longer want a nightlight, give them a flashlight.
Favorite stuffed lovies are essential.
Eliminate violent books, movies and cartoons.
Try not to invite your child to your bed. Instead, stay with your child in their bedroom until they are adequately comforted and back to sleep.
If your child is afraid of shadows, use daylight to teach them about shadows, or set up a light and play shadow puppet games.
These tips are great, and will come in handy as will Marlow and the Monster. If you are interested in getting a copy of this book, it is available through TalkingBirdBooks.com for $14.95 or as an eBook through Amazon for 99 cents. Or, you can enter the giveaway below to win your own copy of Marlow and the Monster! (This giveaway is open to US and Canada and ends August 25.)
Disclaimer: I was provided an eBook copy of Marlow and the Monster to review. All opinions, and my sorta-ok with monsters daughter are all my own.