As soon as I saw the Kokopax baby carrier on The Ellen Show, I knew I had to try it out.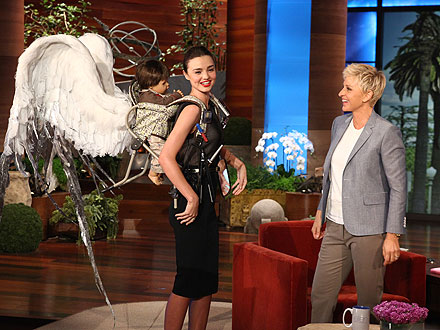 Ok, mine doesn't have fancy angel wings like Miranda Kerr's did, but I still think I look pretty fashionable with Levi on my back.
The Kokopax Classic is a framed carrier, which helps provide more structure than a wrap or soft-structured carrier for babywearing. The aluminum frame is very lightweight and provides more of a seat-style carry for your child. Levi really liked that he was able to sit higher up on my back than with our Ergo or Boba carriers, and I definitely appreciated the safety straps and 5-point harness built-in to the Kokopax.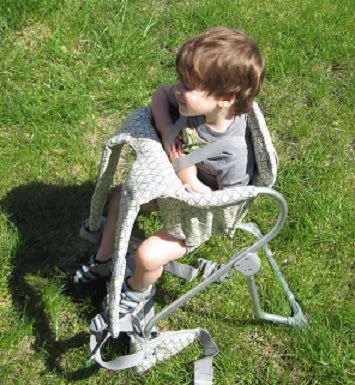 Adjustments for the carrier should be made BEFORE you load your child onto your back. The kickstand comes out, then you can place your child in the carrier and make any necessary adjustments. As you can see in the photo above, I don't have the straps adjusted properly yet, since Levi is able to place his hands inside them easily. Your straps should pass the pinch test when properly adjusted – if you can pinch the fabric together between two fingers, it's not tight enough.
The Kokopax carrier does a pretty good job with hip support. Your child's legs are spread nicely around your back and there is ample room for them to bend their knees. The design could be improved to have the fabric support their hips even more, but overall, they do a pretty nice job, especially compared to some of the Infantino or Baby Bjorn carriers I've seen.
Levi definitely enjoys going for walks in the Kokopax. You can see a step-by-step of how we got ready for our walk in the video below.
If you are unable to view the video above, please click here.
The Kokopax Classic framed carrier is available in a variety of patterns online for $149.99. Be sure to check them out on Facebook for special promotions, new product announcements, and more.
What Do You Think Of Framed Baby Carriers?
Disclosure: I received the carrier shown above at no charge for the purpose of this review. All opinions are 100% my own.