This post was written in partnership with The Motherhood & JOHNSON'S® Baby.
I've always been a fan of JOHNSON'S® Baby products. They're kind of a quintessential part of having a newborn – every single baby shower I've ever been to has included at least one JOHNSON'S® Baby product as a gift to the new mom. Levi is almost 4 years old and I still use their Intense Moisture Relief cream for his eczema. Oh, and I totally use their Baby Shampoo for the dog, too.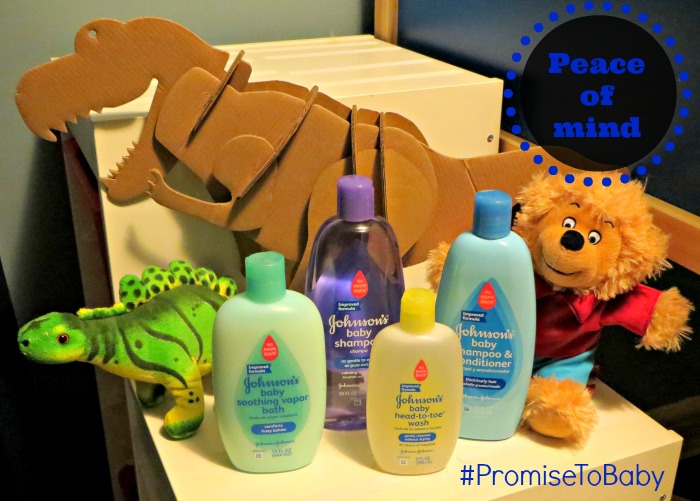 Over the past few years, there has been a growing trend of concerns from parents about the ingredients used in products for our kids, especially skincare products. JOHNSON'S® Baby ingredients have been tested vigorously to ensure safety, but they also wanted to address parents' peace of mind. They've used the feedback they received from moms and dads across the globe to launch a company-wide initiative called "Your Promise is Our Promise" as a way to express their ongoing commitment to parents.
The concept was inspired by a Japanese legend that says folding 1,000 origami cranes will result in a wish granted and a promise fulfilled. Responding to parent concerns is their promise, and they've already started fulfilling it.
As a result of conversations with parents across the globe, JOHNSON'S® Baby has reformulated 7 of their most popular products:
JOHNSON'S® Baby HEAD-TO-TOE® Wash
JOHNSON'S® Baby Lotion
JOHNSON'S® Baby Shampoo
JOHNSON'S® Baby Shampoo & Conditioner for Thick and Curly Hair
JOHNSON'S® Baby Shampoo & Conditioner for Thin and Straight Hair
JOHNSON'S® Baby Shampoo with Calming Lavender
JOHNSON'S® Baby Soothing Vapor Baby Bath
They're still the same great JOHNSON'S® Baby products you know and love, but now they've removed all formaldehyde-releasing preservatives, reduced traces of 1,4 dioxane from all products, and for most of their new and improved baby products, they've also removed parabens & phthalates from their formulas. (New formulas will continue to roll out on shelves until they've completed their commitment to improvement. Check out their policies and timeline for more details.)
Watching the video got me thinking about my own promises to my kids. I don't think I've ever actually made any out loud. I've kind of taken it for granted that they know I will always love them and always keep them safe and always be there for them, no matter what. With all the changes in our family over the past year, I think it's time both Mykl and I shared our promises with them out loud.
Seeing those employees and families folding hundreds of paper cranes and seeing them so proudly displayed inside the company headquarters tells me that JOHNSON'S® Baby isn't just taking this at face value. They're making a real commitment to making these promises part of their culture. If they can live out their commitments and show the world they mean what they say, I know I can show my kids, too.
Their safety and well-being is my #1 priority. It's good to know JOHNSON'S® Baby is a name I can still trust and count on, just like my kids will be able to trust and count on me for years to come.