I was browsing Facebook yesterday and this gorgeous photo mentioning Rainbow Babies came up in my newsfeed.
As many of you know, the whole reason I got into blogging in the first place was because I had a miscarriage with my first pregnancy and wanted to connect with others going through conception and pregnancy struggles so I wouldn't feel so alone. A big part of that was having a "safe" place to discuss the different highs and lows I went through, because sometimes talking to strangers on the Internet is easier than sitting down face to face with people.
I Didn't Know I Had a Rainbow Baby
Levi is 5 years old now. In all my time writing blog posts, reading other blogs, and talking to people online, I've never once heard the term rainbow baby before.
A "rainbow baby" is a baby born after a couple experiences miscarriage or still birth. It's called that because you can't have a rainbow without a storm. And after the storm of pregnancy loss, a beautiful rainbow (child) breaks through the clouds to bring happiness.
I have to say, I love it. And I love the stories being shared on Facebook from others that have been through similar experiences. When I miscarried, I felt isolated and alone. I would never want anyone else to go through that, but I did find comfort in knowing that I wasn't alone. That I wasn't "broken" or "defective" because my body wasn't able to sustain the pregnancy. That other people went through the same thing and the depression didn't devour them whole and eat away at them the rest of their lives.
I know, I know, that sounds fairly dramatic, but between the out of whack hormones and the feelings of hopelessness, it was my reality.
That's why the idea of a rainbow after a storm makes so much sense to me. It's a great analogy for my experience, and I hope other people struggling with similar issues can find some comfort in the idea.
Everyone Has Hidden Struggles
This post was inspired by a campaign I was invited to participate in with The Stork OTC. The Stork is a conception assistance device that I've written about before. They asked me if I had a conception struggle I'd be willing to write about, which was easy to say yes to.
When Jason (Levi's dad) and I first started trying to conceive, we knew it could take time, but honestly, we figured that really meant like 2-3 months. Turns out we were wrong. It took us 8 months, which felt like a lifetime. I took my temp every morning to track my ovulation cycle, got excited for discharge changes, and spent more money than I'm comfortable confessing to on pregnancy tests. Not to mention sex was a chore instead of something fun like it used to be. And every negative pregnancy test was another letdown.
I hated talking about TTC. I'd cringe when I talked to my friends who knew we were trying, because inevitably, they'd ask how it was going. My frustration had absolutely nothing to do with them, of course. I just hated the reminder that my body was supposed to be busy making a baby and it wasn't doing it's job.
Compared to other couples I know, we had it easy. For the most part, the infertility label doesn't start getting thrown around until you've been trying for a year with no success. Knowing the frustration and pain that I went through, I literally cannot even imagine what's it's like for my friends that have been dealing with those feelings for years.
The thing that helped me most was connecting with others and being able to openly share stories without feeling like a failure or like I must not be doing it right. I'm glad this Facebook post has more people talking about their experiences, and I'm also glad products like The Stork exist to help couples who aren't ready to start more invasive (and exponentially more expensive) fertility treatment options. The Stork now has approval from the FDA to be sold over-the-counter without a prescription, which is awesome. I'm sure if I hadn't gotten pregnant when I did, I would have been all over cervical cap insemination (basically, using a device to place the sperm as close to your cervix as possible).
But back to my original point. I'm incredibly thankful for my Rainbow Baby, and just as thankful for the community I've found since he was born. I sincerely hope that anyone dealing with pregnancy loss or infertility knows that they're not alone. The Internet is a big place, and it's wonderful when you can use it to connect with others, share your stories, and lean on each other for support.
Start Connecting
Wondering where you can start connecting with others? I'll be on Twitter tomorrow (Tuesday, 9/22) at noon Central time chatting with The Stork & The Motherhood about ways you can support friends who are trying to conceive. We'll be using hashtag #TheStorkOTC & you can RSVP here.
If you can't make it to that one, they have two more coming up soon.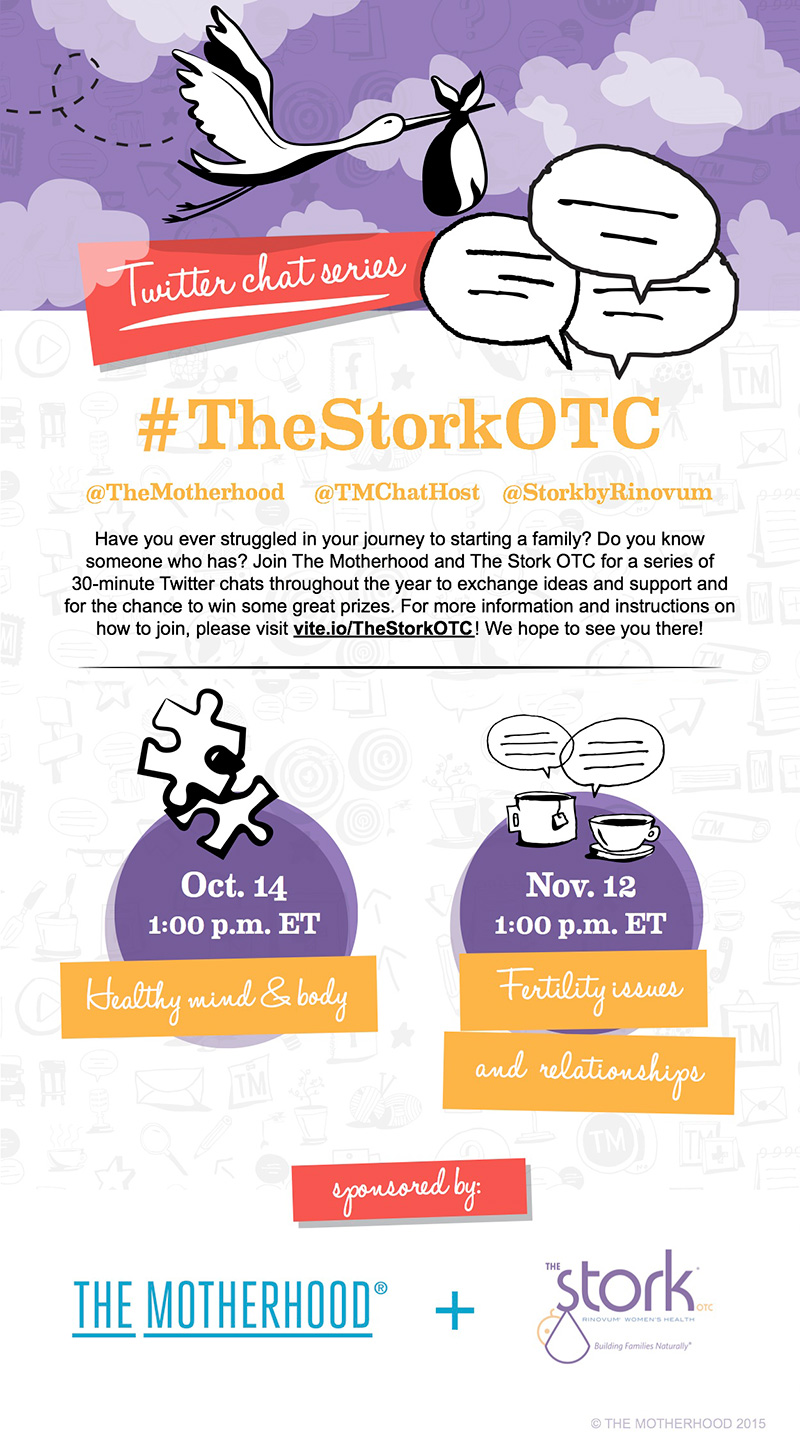 Featured Image Credit: Steve Snodgrass on Flickr