How young is too young for a cell phone?
If you had asked me this question a couple months ago, I would have said Levi is DEFINITELY too young to have his own cell phone. He's not quite 5 – who needs a cell phone when they're not even in Kindergarten yet? Not my kid, that's for sure.
But oh how things change. As part of the Verizon team of lifestyle influences, I was able to learn all about one of their latest connected devices – the GizmoPal by LG.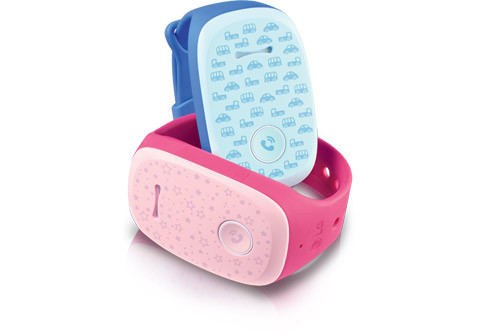 The GizmoPal by LG is a wristband device that combines a lot of great features into one product. For me, it's almost more like a next-generation walkie-talkie than a cell phone.
What Is GizmoPal?
GizmoPal is a wearable device designed for children ages 4 and up. Kids can make and receive calls using a single button, and calls are limited to care providers. (More on this in a sec.) The GizmoPal app allows you to locate the device with your smartphone, and it's durable & water-resistant, too.
Isn't 4 a Little Young for a Cell Phone?
As I mentioned above, if you had asked me a couple months ago, I would have said yes. And I admit, I'd never give my own kids a REAL cell phone until they're mature enough to handle it. But the GizmoPal is different, and I think the stripped-down features make it much more appropriate for younger children to use.
GizmoPal Age-Appropriate Features
With the GizmoPal, you (the adult) are able to program in the phone numbers of two care providers. (For example, Mom & Dad or Mom & Grandpa.) Those are the ONLY two numbers the child is able to call using their GizmoPal. They can't text. They can't play games. They can't dial strangers. They're only able to call the numbers you've preset for the device.
As far as who can call the device – both designated care providers can make phone calls to the GizmoPal, as well as two additional contacts that can be enabled through the app. No one else can make calls to your child's GizmoPal, even if they somehow get the number.
There are two additional features that I think are very appropriate for their target user age:
Unlike a smartphone where you have to tap or swype the screen, the GizmoPal works with a one-button operating system. You can even set it to auto-answer your call, meaning you can communicate with your child even if they don't tap the button to answer. I love this feature for places like large playgrounds with climbing structures. If I need Levi to come down, instead of climbing up after him, I can set the GizmoPal to auto-answer and talk to him through the wristband, much like a walkie-talkie would work.
The GPS locator is great for peace of mind, too. Using the GizmoPal app, you can ping your child's device. The device location will be displayed, which is perfect for reassuring yourself they got on the bus from school or are at the friend's house they're supposed to be at.
So, How Young Is Too Young for a Cell Phone?
I think that as new devices like GizmoPal are created that are designed specifically for younger kids, this is a question parents will need to revisit more than once. Only you know your child's maturity level and ability to use the device appropriately, and most importantly, safely.
I used to think that almost 5 years old was WAY too young for a cell phone. But after seeing the GizmoPal in action, I've changed my mind. Levi is old enough for a GizmoPal, even if he's still many years away from a regular cell phone.