If you're a blogger, or if you're a mom, or if you just need a little help with time management, I highly suggest added this to your office supply list.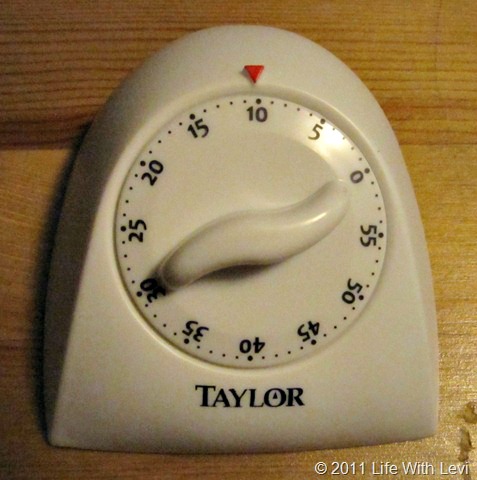 This is a basic kitchen timer I picked up at my local Target for $3.64.
I don't know about you, but whenever I get online to blog, I get…distracted. There's email, Facebook, Twitter, other blogs I like to read, news articles, and cool stuff online that I get sucked into. Before I know it, an hour has passed and I haven't finished what I originally got online to do.
The same is true for me for housework. I start cleaning the kitchen, then realize I'm low on paper towels, so I go downstairs to grab another roll, then see that I'm low on toilet paper, so I run to the store. At the store, I can't remember what I needed so I browse all the aisles, and soon there's another hour down the drain.
Those lost hours are time I could be spending with Levi. Time I could be playing with blocks or reading to him or going for a walk outside.
There aren't enough hours in a day,
but there are ways to make the most of your time.
Go out and buy a kitchen timer.
I bet your local dollar store sells them.
When you sit down at the computer, SET THE TIMER. I use 10 minute increments.
The same goes for doing stuff around the house. When the timer goes off, check your progress.
Are you done? If so, move on to the next task and reset the timer.
Need more time? Figure out a reasonable amount needed to finish your task and add it to your timer.
Trust me, it WILL help.
Since I started using my timer, I'm more productive when I'm online. I might not browse as many random sites or get sucked into Wikipedia, but I do finish all the tasks on my to-do list.
In fact, mine just went off. Time to start on a new blog post.