Back when windows were on houses and  we ate apples, wasn't life a bit easier? Don't get me wrong, social networking is a huge part of my life, but it has changed me.
Sure, social networking introduced me to great people (like Jen) and helps me keep in contact with friends across the world. But, has it got me hooked to the point I can't give it up? Maybe. This past week, I've been on vacation at my in-laws with limited cell phone coverage. I have not been able to just check Facebook and Twitter on the regular like I am used to. Is it killing me? No. Hurting? Maybe a little.
Our house is full of ways to "stay connected"–laptops, iPad, Kindle, smart phones–we are all together as a family this week, yet half the time someone is typing away or zoned out catching up on the latest Olympic news. It is entirely possible that we've become hooked on technology, a true issue facing families today.
Dr. Gregory L. Jantz, a best-selling author and founder of The Center for Counseling and Health Resources, Inc. recently released #hooked: The pitfalls of media, technology, and social networking, a telling book of how our society has become reliant on social networks. he speaks frankly about how our technologies can be positive but also have a negative impact on our world, interweaving real-life examples and subtle biblical applications to his words. (And yes, I linked Dr. Jantz' Twitter up there–go follow!)
While at first I was afraid it would be hard for me to drop my Kindle and Droid and actually read a (gasp!) real life book, I quickly became "hooked" on the text. Perhaps it was because I was realizing how my family sees my constant typing, twittering, tagging, texting…and I wanted to change.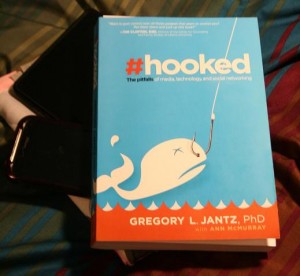 Rather than give you Dr. Jantz' tips on how technology can essentially make or break us, I urge you to read the book and see what resonates with you. The telling quotes that I identified with included:
"We tend to lock up our houses…but often leave ourselves wide open to other kinds of dangers." Personally, I am hooked on FourSquare, and until vacationing this week, didn't really think about my traceable activity. Reading this book, I am much more aware of the dangers of 'checking in' on a regular basis (if at all).
"Keep your friends as a noun." Sure, you've "friended" me on Facebook, but we haven't spoken in almost 20 years. Should I feel a positive reaction, or wonder what kept you from answering my letters, phone calls, and visit requests before? This statement really made me consider the "popularity" appeal of social networking.
"Your family and friends need honest connection, not 140-character…sound bites." I crave quick, snap news bits, and have found I do the same in real life, but sitting and listening to a story about the past has all the sudden resurged in meaning for me.
"Though I love my computer, I wouldn't trade a single relationship for it." Need I say more?
"We were made to rest." How true for me this week. I turned off my work email, knowing Monday is going to hurt, but in the end, I need this rest away from the constant beeps and dings.
#hooked provided so many more connections for me, including activities that made me think about the impact of my social networking, but to tell you all of them would take weeks. I highly suggest this book, even if you think you are not hooked because if nothing else, it will unplug you for a little while–something we all might need every so often.
Disclaimer: I received a copy of #hooked to review and all opinions are 100% my own…including the fact that I enjoyed unplugging for the past few days. You can get your own copy here.