When I was still pregnant, a friend loaned me her copy of Green Babies, Sage Moms, a book about how to incorporate natural products into your family's lifestyle to start your baby off in a healthy environment without breaking the bank.
After reading the book, I realized that a lot of the items I used around the house contained potentially harmful chemicals or ingredients that could be dangerous to a new baby. And according to Green Babies:
The most important people in the world are also the ones who should be the most discerning about what they choose to use. By important I mean expectant moms and new and growing babies. As we now know, toxic ingredients that don't appear to effect the mother at all can cross the placental wall and have negative, even disastrous effects on developing babies.
Knowing that everyday bath products may contain harmful ingredients has made me more vigilant in the products I choose to use on him. When I heard that Green Babies had launched a new organic body care line, I was excited to try out some of their products.
The Shampoo & Body Wash lathered much better than I expected. It foamed easily and did not leave Levi's skin dry.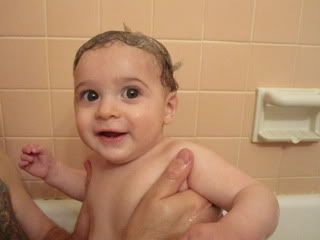 The fragrance was a little strong for me straight out of the bottle, but it faded almost immediately into a very pleasant clean smell once Levi was out of the bath. I thought that since the fragrance seemed strong, it might irritate Levi's sensitive skin, but he was absolutely fine. Just a nice, clean baby.
Just to be on the safe side, we tried out the Calming Bubble Bath on a different night to make sure there weren't any skin reactions.
Great scent, not as strong, and lots of bubbles. Levi had fun splish-splashing them in the tub.
Some of the cool features of Green Babies Body Care line:
Tear Free
100% Vegan
Hypo-Allergenic
Certified Organic Ingredients
Never Tested On Animals
Free of synthetic dyes, fragrances, sulfates, parabens, and phthalates
Buy It
The Green Babies Body Care line includes Bubble Bath, Shampoo & Wash, Detangler, and Moisturizer, from $8.99-10.99 each.
Win It
One lucky reader will win TWO items of their choice from the Green Babies Body Care line.
Mandatory Entry:
Visit Green Babies, look around, then come back and tell me one item from their store you would like to try (body care or other item). 
Bonus Entries:
"Like" Green Babies and Life With Levi on Facebook (1 Entry each)
Follow @GreenBabies and @LifeWithLevi on Twitter (1 Entry each)
Follow Life With Levi via Google Friend Connect (1 Entry)
Subscribe to the Levi With Levi newsletter (1 Entry)
Tweet about this giveaway. Must mention @GreenBabies & @LifeWithLevi, and include a link to this post. (1 entry per tweet, may tweet up to 3 times per day)
Share this giveaway on Facebook. Must tag Green Babies and Life With Levi in your status and include a link to this post. (3 entries)
Add this giveaway to a linky, discussion forum, or other meme (1 entry per link, limit 5)
Leave a relevant comment on any non-giveaway post (1 entry per comment, limit 5)
Contest Ends: Tuesday, June 7th, 2011 at Midnight CST.
Open To: USA and Canada.
Winner will be chosen by "And The Winner Is." Winner will be notified via email and will have 48 hours to respond or an alternate winner will be selected. Prize will be shipped by Green Babies.
Disclaimer: I was provided product for the purpose of this review by Green Babies. I was not compensated for this review. All opinions are my own.