I need to win this giveaway. No, really. I'm serious. I suck at weight loss. I need Vinnie Tortorich to kick my ass into gear.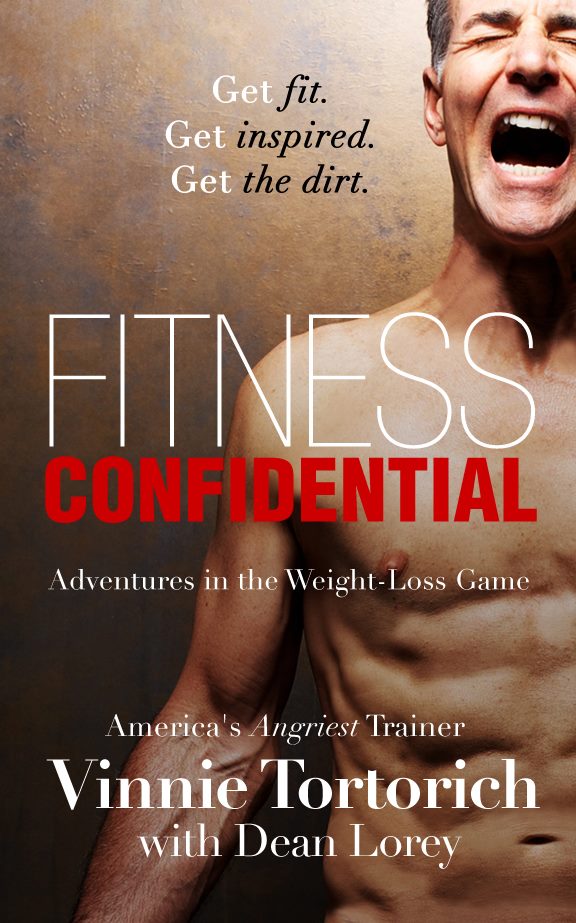 I know, I know, he looks kinda scary. That's kinda the point, though. I'm tired of meal plans I can't stick to, fad diets that I quit after 3 days because I'm starving, and falling off the wagon over and over and over again. I don't need someone to gently remind me that I should skip the GMO-laden potato chips. I need someone that's real, honest, and gets down to business.
Fitness trainer Vinnie Tortorich has been Hollywood's "go-to" guy for celebrities, athletes and everyday people for over 22 years. After hosting TALKING FITNESS (New Orleans' top-rated radio program), he came to Beverly Hills where his guest shot on THE OPRAH WINFREY SHOW made it the 7th most watched episode of all time. His AMERICA'S ANGRIEST TRAINER podcast reaches hundreds of thousands of listeners, who tune in weekly for his r-rated diet and fitness advice as well as his epic rants.
Vinnie's regimen isn't about dieting. It's about changing your lifestyle to a no sugar, no grains (#NSNG) philosophy. His new book Fitness Confidential walks you through making the choices to result in permanent change and permanent results. He not only shares his lifestyle and training advice, but he's honest about common fitness myths and shares personal failures he experienced to figure out what actually works and what doesn't.
America's Angriest Trainer, Vinnie Tortorich, exposes the nasty underbelly of the fitness industry while helping you get into the best shape of your life. For over 20 years, Vinnie has been Hollywood's go-to guy for celebrities and athletes looking to get fit fast. Now, in this hilarious and often r-rated memoir, he holds nothing back. What's the best piece of fitness equipment money can buy? What's the fastest way to lose weight: diet or exercise? Why are health clubs worse than used car lots? It's all here. His take-no prisoners approach to getting in shape started when he was a kid in Louisiana, where he was routinely teased and beaten after being crippled by a birth defect. He overcame it and, later, found his passion as an ultra-cyclist, until a deadly disease nearly took his life on the eve of competing in the Furnace Creek 508: a brutal cycling competition through the heart of Death Valley. In FITNESS CONFIDENTIAL, Vinnie lays it all on the line. So get ready to get fit, get inspired and get the dirt with Hollywood's most outrageous personal trainer.
Ready to make a change? $135 Prize Pack up for grabs!
To kickstart your commitment to make a change, Vinnie is giving away a great prize pack to one lucky reader. The prize pack includes an autographed copy of his book Fitness Confidential to guide you through your health transformation, a $100 Visa Gift Card to reward yourself for making a positive life change, and an #NSNG t-shirt to proudly show off to all of your friends.
Enter using the easy Rafflecopter form below. This giveaway is open to US residents and ends Saturday, October 12, 2013.
a Rafflecopter giveaway