In two weeks, my daughter will be heading back to pre-school. I know my husband isn't quite excited about this because it means he has to help her pick out outfits. Lucky for them, she will be using a personal assistant to help pick out clothes this fall.
Girls Looking Cute is here to help girls test outfits for style without trying them on, and avoid clothing battles in the morning.  The Personal Outfit Assistant teaches girls to start the day the night before, setting out their outfit for the morning. It's easy to match up outfits and accessories then hang them from the mannequin so the day can be off to a good start. Each "dress-up doll"  is US made, 56″ tall, and constructed with durable MDF wood (think Entertainment stands). They are even customizable so you can match skin tone, eye color, and hair color to your child (love this!).
When our Personal Outfit Assistant arrived, my daughter was extremely excited. She's been playing a style app on the Kindle, so she's no stranger to matching outfits on a mannequin, and this doll made it real life for her. We unpacked the doll and I was assigned set up duty. The instructions looked easy, but I did break a little sweat trying to get the pieces of wood to hinge together (no tools needed). That's primarily because the wood goes together very tightly, and you'll be able to tell you have it just right if it's hard to put the hip hinges together–trust me!
Once she was set up, Ari and I decided to put some new clothes on the hangers that come with the doll. Shirts hang off the shoulders, and pants or skirts hang from a hanger at the waist.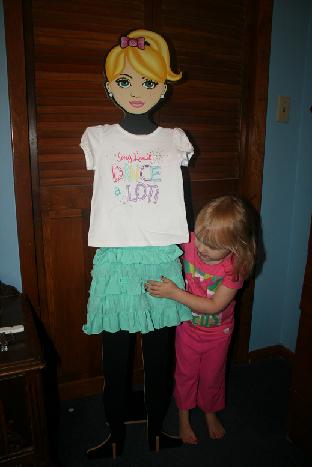 Next up, we decided to test a dress and sweater because I was a little worried the wood might tug at delicate fibers, however, it didn't seem to do any harm. Plus, I wanted to see if the shoulder height worked for Ari since she's pretty tiny. We didn't have any problems with her reaching to put the dress on the doll, and she was thrilled she could do it herself–big wins for a pre-schooler.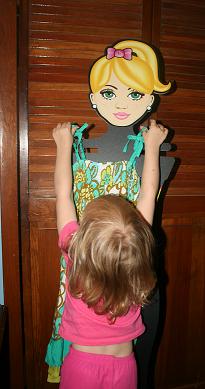 The Girls Looking Cute Personal Outfit Assistant is definitely going to be a big help this school year. While it might not be the best fit for all pre-school girls, mine loves her dress-up doll and I guarantee elementary and middle-school girls will love it even more. (My husband, a SAHD, really appreciates it because I'll work with her at night to pick out clothes, taking the guess-work out of his mornings.)

If you'd like to get a Personal Outfit Assistant for your child, visit GirlsLookingCute.com. Each personal outfit assistant is customizable and retails for $69.95.
Disclaimer: My daughter received a Girls Looking Cute Personal Outfit Assistant to test out–she wasn't obligated to squeal when it came in the mail, but she did. All opinions about this product are 100% mine and hers.