Mykl and I have a pretty solid relationship, but like most couples, we get on each others' nerves, well, pretty much daily. I think that's natural when you love someone. At least, for us it is.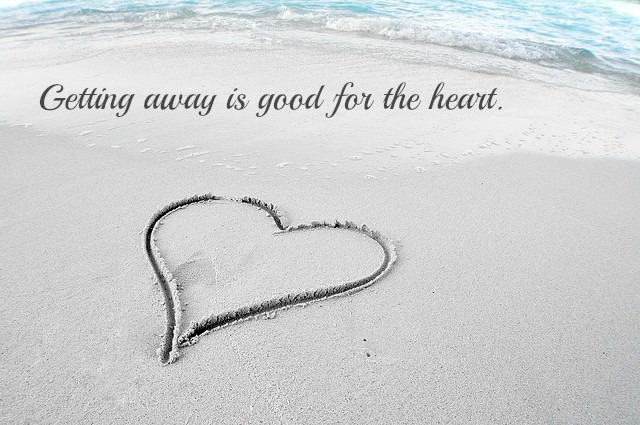 While I was traveling this past week for Brandcation: Seas The Day, I was able to enjoy all the ways that getting away can be good for the heart.
Anticipation of absence
A few days before I left for my cruise, Mykl and I both realized that a week apart is a decent-sized break from our routine of seeing each other daily. It's not the first time one of us has traveled while the other has stayed home, so we mostly knew what to expect. We anticipated missing each other, so we both took extra efforts before I left. They were small pockets of time – snuggling up to watch a show together after the kids went to bed or holding hands on the couch – but they helped make it a little easier to wave goodbye at the airport and head off to have fun on my adventure without feeling sad.
Absence makes the heart grow fonder
I spent most of the cruise having a blast with my girlfriends. We danced, we ziplined, we ate fabulous dinners, and sipped cocktails by the pool. While we were having fun, I wasn't thinking about Mykl – I was enjoying my time connecting with my friends.
Little pieces of missing him popped up throughout the trip. One of the big musical shows we went to was Saturday Night Fever. The entire show, I could hear Mykl's voice singing those songs up on stage instead of the actors (though I'm not sure how well he would have fit into some of those costumes!) As I walked through the casino one night, I found myself wondering if he'd hang out there just so he could smoke a cigar. And of course while I was judging the sexistest man contest, I couldn't help but think about how he would never get up on stage to participate and probably wouldn't be too thrilled by all the butts that were shaken in my face.
Bedtime is what made this lesson hit home for me. As my head finally hit the pillow at the end of each night, I genuinely missed Mykl. At home, I go to bed every night and wake up every morning with him by my side. Traveling solo meant going to bed by myself. Those minutes before sleep overtook me are when I realized how much distance was between myself and the man I love. Missing him for me was synonymous with appreciating him. If he wasn't such a wonderful boyfriend, I wouldn't miss him in the first place.
Celebrating our reunion
Without this separation, there wouldn't be the reunion I'm currently enjoying. The anticipation of returning home was sweet, but not as sweet as the giant smile waiting for me at baggage claim. Being back in Mykl's arms is blissfully wonderful.
Taking a week away gave me time to miss him and appreciate the little things that make our relationship unique. Tonight I'm kinder, gentler, and more willing to listen than jump to conclusions. I'm too busy reconnecting with him to worry about petty annoyances, and I'm pretty sure he's cutting me a lot of slack, too. We're simply happy to be back together.
In a few days, these feelings will inevitably fade and we'll settle back into our regular routine, but right now, I know that getting away was good for my heart.
Photo credit: Nattu