I'm talking about dry skin today courtesy of The Motherhood & Johnson's Baby.
Levi has had eczema since he was little. Like most kids with eczema, his skin gets worse in the winter. Since we live in MN, it's a constant challenge to moisturize his skin and keep it well hydrated once the weather gets cold and the house is filled with cold air.
His biggest problem area is his legs. His shins often feel scaly to the touch, even though his skin looks healthy. My cousin has a different kind of eczema on her arms that actually turns into rough red patches, so I'm glad that at least Levi's isn't that bad.
Our current routine to help manage his eczema involves minimizing situations that contribute to dry skin and moisturizing frequently. That means baths every other night instead of every night so the hot water doesn't dry out his skin. I just bought him a humidifier for his bedroom to help keep the air from getting too dry in there, and one for the girls' room while I was at it. (Last winter, Levi was still sleeping in my room more than his own, so I only had one in my bedroom. Now that he's sleeping in his bed most nights, I had to get one for his room.)
To help moisturize his skin, he gets lotion on his legs every morning and every night, especially after a bath or swimming. We've tried all kinds of lotions, but haven't hit on one that really solves the problem yet. When Johnson's Baby recently sent me a gift basket full of products, I was excited to see their new Intense Moisture Cream was in it.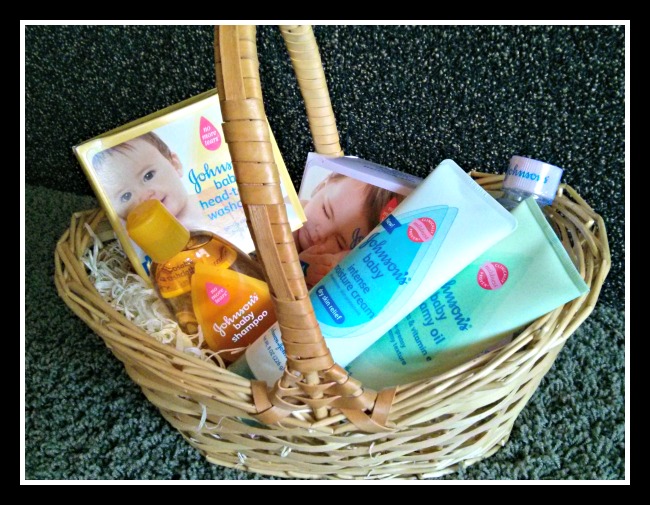 A friend had already tried the Johnson's Baby Intense Moisture Cream and said it really helped her kiddo's dry skin. It has a rich and creamy feel to it, which I personally like because it seems that the thin lotions I've tried in the past don't work very well. This had a great thickness to it and I was really able to rub it into Levi's skin well.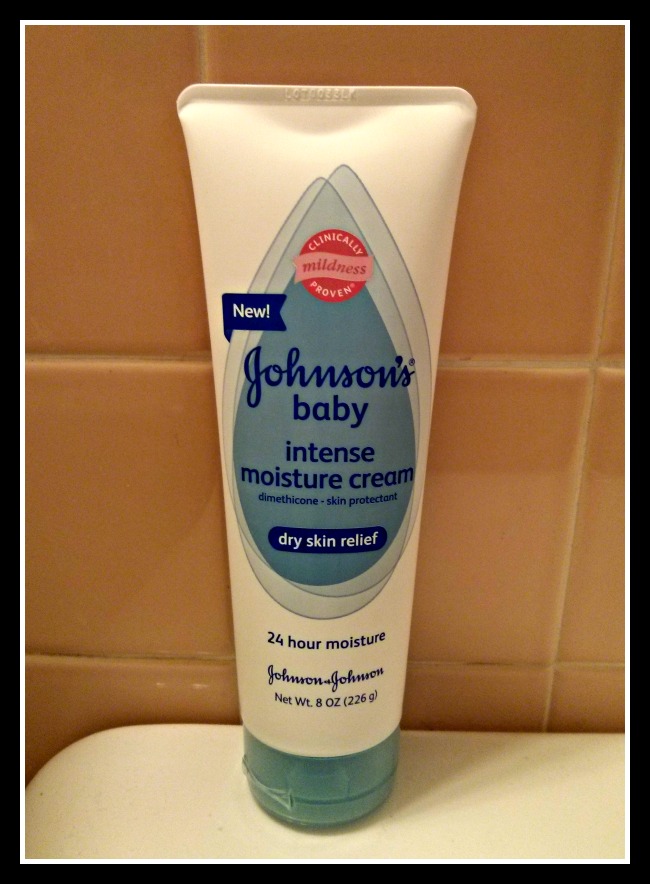 The moisture cream wasn't greasy feeling, either. It went on smooth and didn't leave streaks as I rubbed it into his legs. I've been using it on him for about a week, and it seems to be helping. It's not a magic cure for Levi's eczema, but it has helped make the scaly patches on his shins feel softer. Hopefully with continued use, this will help manage his eczema throughout the dry MN winter and all of our favorite snowy outdoor activities like ice hockey, sledding, and making snowmen.
Learn More
If you'd like to learn more about protecting your child's sensitive skin from the cold, dry winter air, Johnson's Baby is hosting a Twitter party on Wed, November 13th from 2-3pm EST. (That's 1pm CST and 11am Pacific) You can RSVP via Twitvite and join in the conversation using the hashtag #JOHNSONSBaby to ask questions and win great prizes during the chat. I'll be there to chat about
Win It
Johnson's Baby offered to let me give away the same gift basket I received for Levi (shown above) to one lucky reader. You can enter below using the easy Rafflecopter form.
Contest ends Friday, November 15th, 2013. Open to US residents only.
a Rafflecopter giveaway