Mummy Graham Crackers are an easy Halloween treat to make in your home kitchen. The prep time is reasonable, and the finished result is perfect to add a little something extra when it's your turn to bring a homemade treat to a Halloween party or potluck.
Best of all – the decorating is super easy to do! If you can draw a line, you can totally make these delish little Mummy Graham Crackers.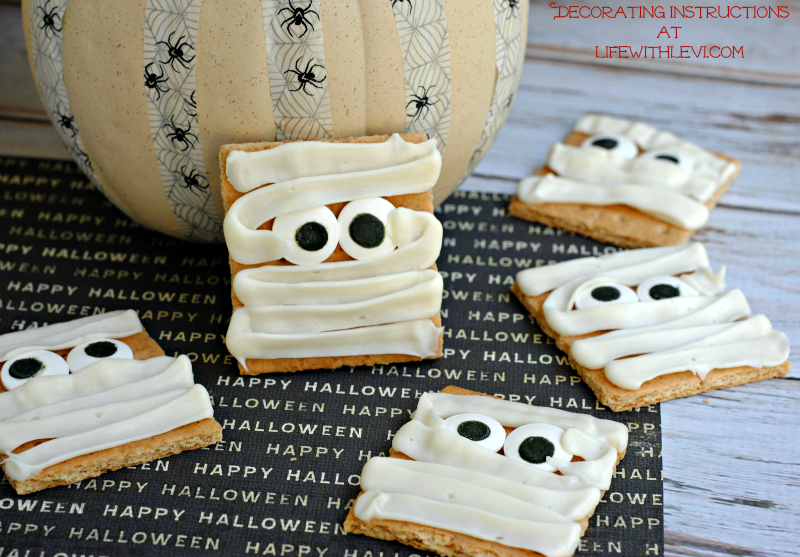 Mummy
Graham

Crackers

Ingredients:
Graham Cracker Squares (rice crispie treats also work great for this)
12 oz pkg white candy melts or white chocolate chips (Wilton melts are what I used)
Large candy eyes, 2 per square
Small sandwich baggie
Kitchen scissors
Directions:
Heat the candy melts (or white chocolate) in the microwave in 30 second increments, stirring until melted. (Melting time will vary based on your microwave's wattage. My 900 watt microwave took about 2 minutes to get the candy melts to the correct consistency.)
Using a butter knife or similar utensil, add a dab of melted candy to the back of each large candy eye. The candy will act as glue for you to attach your eyes to your graham cracker square.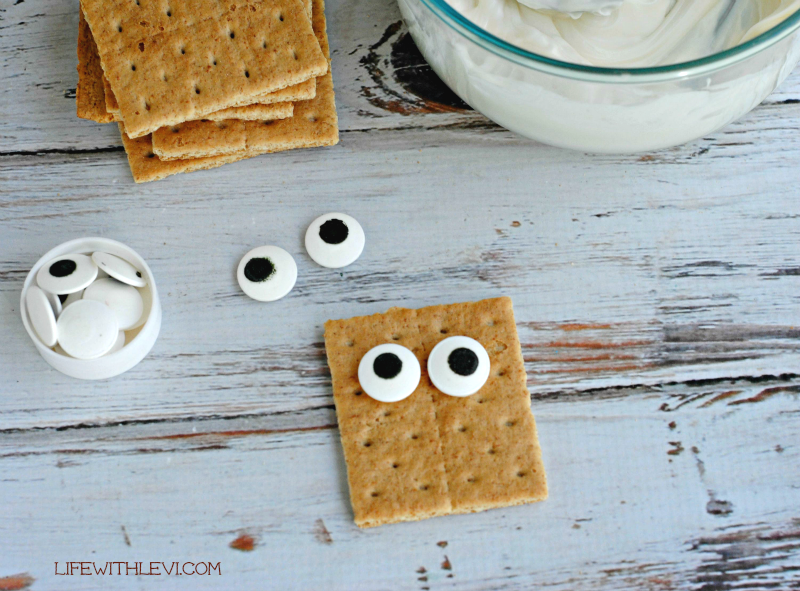 Scoop the rest of the melted candy into the sandwich baggie and snip the end of the bag diagonally with you kitchen scissors to make a homemade piping bag. Test that the melted candy is a safe temperature to touch – it should still be melted enough to squeeze out, but you don't want to burn your fingers.
Gently squeeze the melted candy out of the sandwich baggie onto the graham cracker from one side to the other, making each "ribbon" look like scraps of fabric. Continue until the graham cracker is covered.
Repeat for the rest of your graham crackers. Let sit for approximately 30 minutes before serving. This will allow the chocolate to set and cool.
Serve & Enjoy!