When Philips Healthcare emailed me to ask if I was doing any posts about breast cancer awareness this month, I almost screamed SCREW CANCER and slammed my laptop shut. Writing about breast cancer appeals to me about as much as a horse's ass right now.
It's been a rough year. My Grandma Gladys passed away from breast cancer in March, and my friend Marta just underwent a double-mastectomy earlier this month due to, you guessed it, breast cancer – her second round, no less, after 9 years of remission. It hurts to see people I love have their cells betray them and attack their bodies from the inside – the inside that I know is beautiful and radiant and full of personality and love that doesn't deserve to go through the havoc that cancer causes. It's bullshit, and at the end of the day, I'm left with anger and frustration that there's not much I can actually DO about it.
Except that in my own small way, there is something I can do. I can do my self-exams every month. And I can encourage other women to do them, too. And I can share with my readers that they can do this too, and maybe one of us will help ourselves or someone else detect breast cancer early on before it reaches a critical stage.
In a weird way, I'm really glad that Philips Healthcare sent me an email that made me react so strongly. I'd be singing a different tune if they were another pinkwashing company, but they're not. They're actually putting their money where their mouth is and investing in breast cancer research, spreading awareness for early detection resources, and facilitating free testing for women globally.

Last week Philips Healthcare brought their Mammography Truck Road Show to St Louis Park to provide educational resources to women and unveil their Micro Dose Mammography system. Mammography is the most effective method of early detection, and the Philips Micro Dose Mammography technology uses targeted, guided diagnostics for women with a radiation dose that's 40% lower than other full-field digital mammography systems.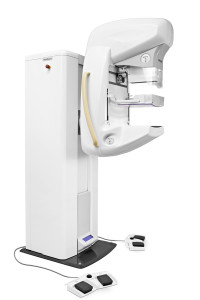 Studies show that mammograms can spot tumors up to three years before they might be detectable by feel, greatly improving the prognosis. Early detection of breast cancer also means a wider range of treatment options, including less aggressive surgery and adjuvant therapy according to the Breast Cancer Society.
The sad reality is that many of us will have our lives touched by breast cancer. We'll grieve for someone we've lost, like Levi and I have for my grandmother, or we'll cheer on someone like my friend Marta that kicked cancer's ass once and is fighting to kick it again.
Today, though, I'm saying Screw Cancer in a different way. There IS something we can do. I've shared my story, and lots of other bloggers have shared their personal connections, too.
Breast cancer touched the lives of all these women, and they were willing to share their experiences with others. The message I took away from all of their stories is that breast cancer is a scary experience, but there's a community of supporters out there whether it's just a scare or an actual diagnosis.
Cancer sucks. It's a reality in our world, but we can all DO something about it. Let's start with two things.
1) Yell really loud
SCREW CANCER!
I'm serious. It feels good. Trust me. I even throw in the F-word for good measure.
2) Put some of Philips Healthcare's money to good use
Wanna do something good for other people? Philips is providing a $100 Visa gift card for me to give away to one of my readers so they can do something good for someone else. They're awesome like that.
Contest ends Friday, Nov 1, 2013. Open to US residents only.


style="display:inline-block;width:468px;height:60px"
data-ad-client="ca-pub-3039813698711692″
data-ad-slot="1611602960″>

a Rafflecopter giveaway


style="display:inline-block;width:468px;height:60px"
data-ad-client="ca-pub-3039813698711692″
data-ad-slot="7658136560″>