Looking for an easy St. Patrick's Day craft to do with the kids? This cute Four Leaf Button Clovers craft my friend Katie came up with easy and fun to do with the family.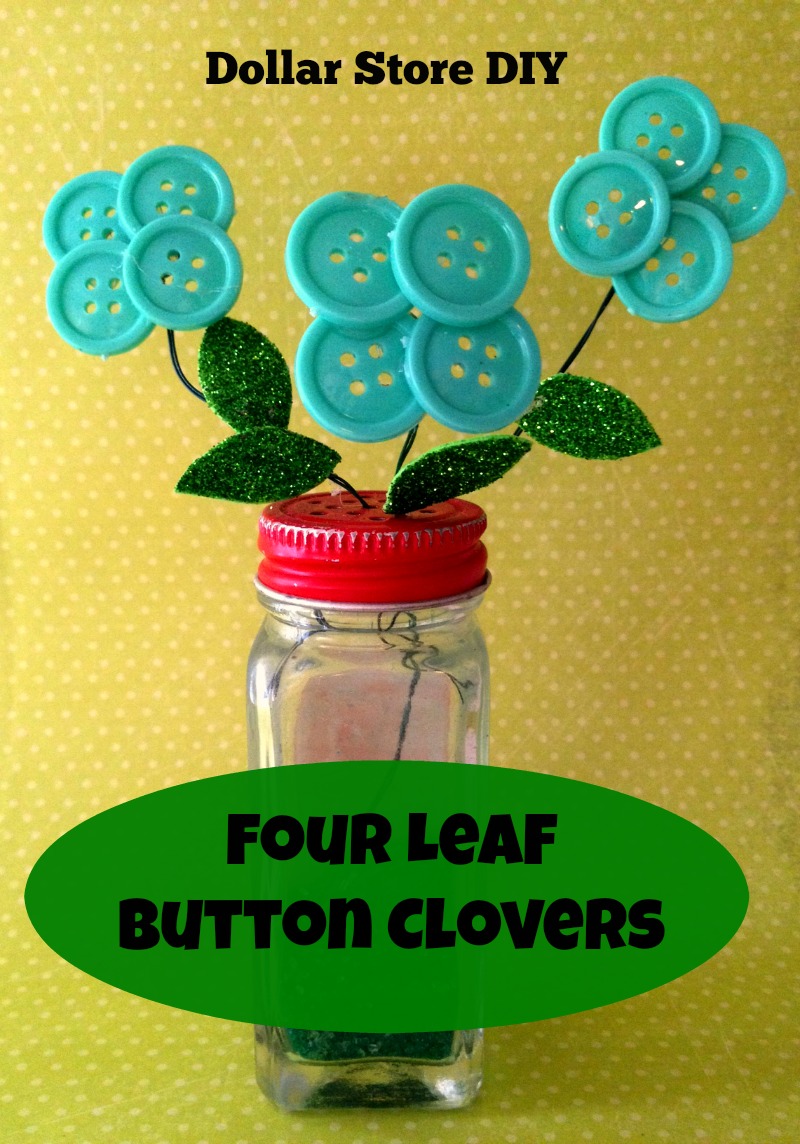 You don't have to be particularly crafty (even I can make this one) or spend a lot of money on supplies to create a little festive holiday decor with your kids to display around the house. Most of the materials used for this craft can be found around your house or with a quick trip to the dollar store.
A bouquet of these clovers will add some charm (and hopefully luck!) to any spot in your home that can use a pop of St. Patrick's Day color. Plus you can practice counting and fine motor skills with your kids as you make them.
Four Leaf Button Clovers
Supplies
Assorted green buttons (mine look blue in the photo)
Florist wire
Green construction paper or foam
Salt or pepper shaker
Glue gun
Filler such as sand or sugar
Food coloring (optional)
Scissors
Instructions
Begin by creating your clovers. Select 4 buttons to use for your first clover. Add a dab of hot glue to the side of one button, then press another button into the glue drop, pressing firmly to make sure it sticks. Repeat this process two more times until you have four buttons attached in the shape of a clover. Set aside and allow to cool.
Eyeball how long you'd like the stem of your clover to be. Measure approximately double this amount of floral wire, then fold the floral wire in half and twist it. This will help make your stem sturdier. Add a generous dab of hot glue to the end and attach it to your button clover.
Next, attach your leaves. Cut simple leaf or oval shapes out of the foam and glue them to your wire stem.
Repeat this process until you have completed all of your button clovers. Finish your bouquet by arranging it in a salt or pepper shaker. The holes in the lid are perfect for holding the wire stems in place. For extra flare, add some sugar or salt as "dirt" filler in the bottom of the shaker. You can use food coloring to dye the filler before adding it to the container.
Voila! Pat yourself on the back for a successful St. Patrick's Day craft and display your button clovers proudly in your home or give them as a gift to friends and family.