Jessica from IT Works! recently came over to wrap me up in one of their toning wraps. You know, the kind that's supposed to help tighten skin and reduce inches.
She explained to me that it's not an instant weight loss tool and you can't expect miracles. It works by drawing out toxins from your body, and since fat cells contain toxins, once those are removed, the fat cells shrink down.
It's not exactly magic. You have to do some work, too. Obviously, you have to use the wrap, but just as important is drinking tons of water. The way Jessica explained it to me, the wrap contains the gel that helps draw toxins from your fat cells and concentrates them. Then you pee them out. The more water you flush through your body, the more effective the wrap is in removing the toxins.
I've never tried just flushing my system with water to see if I get any results that way, so I can't compare it to that, but I can tell you what my experience with the It Works! wrap was.
First, Jessica marked took some measurements and marked my stomach with permanent marker so we could make sure we used the same exact place for the "after" measurements.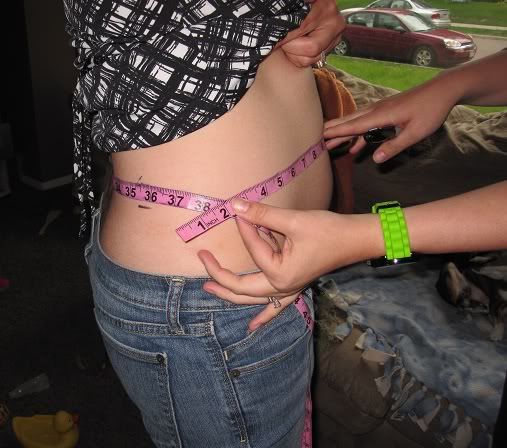 Next came the actual wrap. I was surprised that it's not meant to go all the way around your stomach and waist. It's meant to go on target problem areas, and can be cut apart if you want to use it, for example, on the backs of both thighs.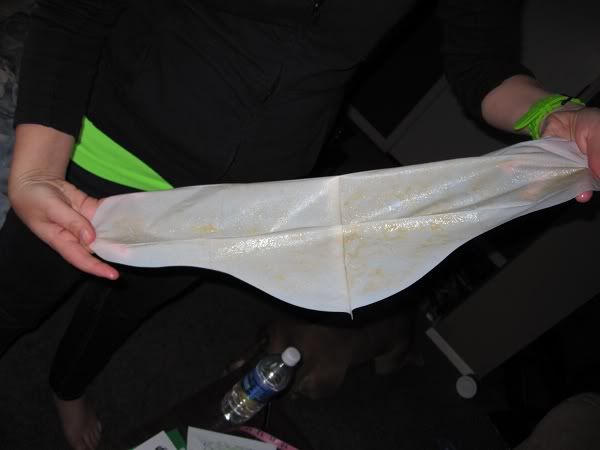 The gel comes already on the wrap, so once you unfold it and open it all the way up, it's ready to stick on. After you stick it to the area you want (for me, I wanted to do my stomach), you wrap yourself in saran wrap or an ace bandage to hold it in place.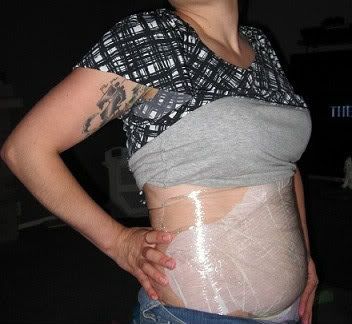 You have to leave it on for at least 45 minutes. Since Jessica said you can leave it on overnight, I did, but we still took measurements after the 45 minutes to see if there were any changes.
I didn't drink quite as much water as I was supposed to, so I got a headache. Jessica said that's pretty common, especially if you haven't wrapped before, since the toxins build up and your body hasn't had a chance to flush them all out yet. She told me to keep drinking water, and once I went to the bathroom again, I felt much better.
For the record, I think the before and after photos I've seen floating around online are dumb. They're often taken at different distances to over-exaggerate a person's loss. I mentioned before that Jessica told me in advance that this isn't a miracle product, so I wasn't too surprised that I didn't notice a huge difference in my before and after photos.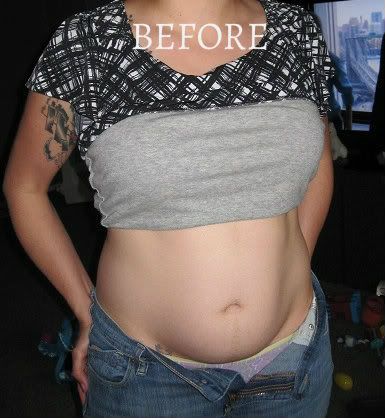 I kind of screwed up on my before and after photos, because I forgot where I was standing for the first one. And since Jessica was getting ready to wrap me in the "before", my pants are unbuttoned, but I did keep the same clothes on and tried to approximate the distance from the camera to be consistent.
The biggest difference for me was that I felt like me skin was tighter and more toned. The wrap is supposed to keep working for up to 72 hours, so I decided to take 3 different measurements to test and see if it really worked. Here are my results:
| | | | | |
| --- | --- | --- | --- | --- |
| Time Elapsed: | Waist: | Stomach: | Hips: | Total Inches Lost: |
| Start: | 36.5 | 38.0 | 38.75 | n/a |
| 45 minutes: | 36.0 | 37.75 | 38.0 | 1.5 |
| 24 hours: | 35.5 | 37.0 | 38.0 | 2.75 |
| | | | | |
Do does the IT Works! wrap really work?
I think the numbers above speak for themselves. I was most excited about losing a full inch around my waist and a full inch around my stomach. I ordered 4 more wraps so I can trying doing them on a weekly basis. I figure they can help give me an extra boost in addition to working out and eating healthy.
Disclosure: Jessica came over and gave me a complimentary wrap to introduce me to IT Works! products. I was under no obligation to write this review, and all opinions are my own.