Last week I shared how the Dell XPS 13 ultrabook measures up to what moms really want in a laptop. Although I think I got it mostly right, I have to admit – my post was a lil' biased because it was based on my experiences as a working mom and my business needs.
So I decided to write a Part Deux of my review. You'll still get some bias from me (it is my blog after all), but I opened up to a couple blogger friends chiming in with their thoughts on what makes a laptop perfect for a working mom.
Laptop Durability
My friend Jenn from DoingWheelies shared, "Well… I cracked the screen on mine because I backed up and ran it over with the wheelchair. So durability and/or warranty would be a big perk, lol."
Though the Dell XPS 13 notebook has a machined aluminum frame that makes it pretty solid despite it's light weight, I'm not sure the Gorilla Glass could stand up to being run over by a wheelchair. Then again, I'm also pretty certain Jenn doesn't make running over her laptop a regular practice. The XPS 13 comes with a one-year parts warranty, but I'd definitely recommend an extra protection plan to cover accidental damage if that's a concern. When I checked Amazon today, they showed a 2-year "drops & spills" protection plan available for an extra $105. As much as I love Amazon, Dell has a better value if you buy a protection plan directly through them – they have plans available for 1-5 years and offer monthly payment plans as low as $2/month.
USB Ports
My friend Brooke from AelisIRL rated USB ports high on her list, "I feel like my next laptop needs a lot more USB ports than the one I have now. Unplugging the camera, for the storage device, for the mouse, for the other many accessories I use gets really old really fast."
The Thunderbolt™ 3 multi-use port on the XPS 13 ultrabook is awesomely fast, but doesn't solve Brooke's problem of having to switch connections for hooking up multiple devices to her laptop. The good news is that it does include an SD card slot, eliminating the need to use one of the two available USB ports for her camera.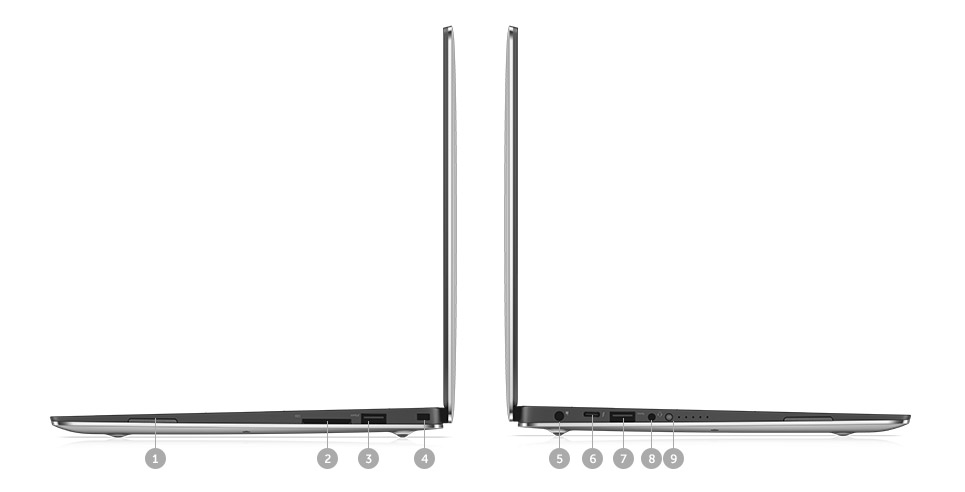 Dell XPS 13 Ports & Slots: 1. Speaker | 2. SD card slot | 3. USB 3.0 with PowerShare | 4. Noble lock slot | 5. AC power | 6. Thunderbolt™ 3 supporting: Power in/charging, PowerShare, Thunderbolt 3 (40Gbps bi-directional), USB 3.1 Gen 2 (10Gbps), VGA, HDMI, Ethernet and USB-A via Dell Adapter (sold separately) | 7. USB 3.0 | 8. Headset jack | 9. Battery gauge button and indicator
In addition to the laptop, Dell sent me their Universal Adapter, which I think would help Brooke out, especially since it would allow her to hook up the XPS 13 to two external monitors while gaming (one to play and one to record for her YouTube videos).
Speed
Both Jenn and Brooke also listed laptop speed as part of their criteria when shopping for a new computer.
"Overall, the biggest thing I need in my next laptop is space and speed. I want to be able to listen to music while browsing social media while working with photo editing and desktop publishing software. I need a laptop that can keep up with me!" –Jenn from DoingWheelies
"I also need one that can keep up with all of my video recording and editing software at once." –Brooke from AelisIRL
On this front, the Dell XPS 13 ultrabook totally delivers. With 6th Generation Intel Core processors available at speeds of up to 3.2 GHz & 4M cache, this machine has handled everything I've thrown at it with ease.
When it comes to performance, it's definitely a solid choice for anyone looking for a new work laptop.