As child I loved Colorforms. Everything looked cool with bright stickers in cool shapes, regardless of my lack of artistic skill. Today, the new Colorforms Revolution iPad app gives my kids a chance to be creative, too.
When I was asked to have my family give the new Colorforms Revolution HD iPad App a try, I wasn't the least bit worried about the kids not enjoying it. The new app has similar features to the "old" game, but adds in sounds, music, brilliant colors, puzzles and more. Just reading the description below, I hoped I'd be able to steal some time playing the app, myself.
The revolution is finally here with COLORFORMS® REVOLUTION™ HD, the new iPad (and iPhone) app celebrates the nostalgia of the stand-out original and allows the family to experience Colorforms® like never before! Combine shapes, colors, patterns and backgrounds in endless combinations to create an infinite number of exciting designs. Or choose a Play Set with themed stickers and backgrounds, put them in a scene and a story is born. Play a Puzzle Board to build a picture and see it animate. Or go wild with the crazy circle, surprise square, kaleido-triangle & radical rectangle. With simple controls you'll figure out as you go, Colorforms® is good wholesome fun for everyone. Just pick it up, start playing and join the revolution!
After downloading the app, I realized it was going to be straight-forward to give to my 3-year old with minimal instructions. I showed her the different options (creating with shapes, working on shape puzzles, sticking on play sets, saving the art work) and off she went. Within minutes, she was matching shapes in the puzzle boards, sticking elephants and rhinos in the jungle, and proclaiming, "look what I have done!"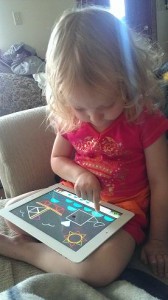 Admittedly, the puzzles are her favorite. She is learning to identify the shapes and colors, so it's perfect for her to get extra practice yet be playing a game. As parents, we get a solid thirty minutes of quiet (minus the shouts of "Look what I have done!"). Colorforms Revolution HD was definitely the go to app during our recent road trip for these very reasons. It also helped when visiting the in-laws who did not have puzzles for her age. No small pieces to worry about, and no clean up needed. Maybe just a little more space on the iPad to save her gallery snapshots.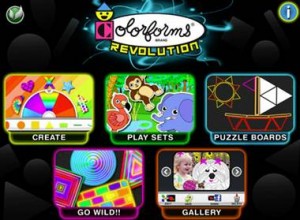 The tech specs:
Modes include: Create Mode, Play Sets Mode, Puzzle Boards Mode, and Go Wild Mode
Available on iTunes for iPad iOS 4.3 or later
Rated 4+ (even though my 3 year old LOVED it and got it)
92 MB space required
$2.99 for the HD App, free version is available
by Out of the Blue Digital
And, as an added bonus, I was given a code to giveaway to one lucky reader! Rules: You must have an iPad to use this code / 18+.  Giveaway ends on August 17 at 11:59 PM EDT. Enter using the easy Rafflecopter form, below!
Disclaimer: I was provided a code to try out Colorforms Revolution HD and one to give away. The fun my daughter had is all her own, and my interpretation of her fun is 100% my own.