I've been teaching my girls about recycling and natural energy sources for a while now. We work hard to create as little waste as possible and keep our carbon footprint small. While we'd love to drive a hybrid and live in a solar powered house, that isn't in the budget right now, so we do what we can. Even little steps like recycling and using paper cartons can help.
We don't have a curb-side recycling program in our area, which surprises me. I live in St. Louis so you'd think we'd be on the up and up. Over 41 million households have access to carton recycling, and that number is on the rise. In addition, cartons are made from renewable materials – more than 70 percent of the carton is made from paper!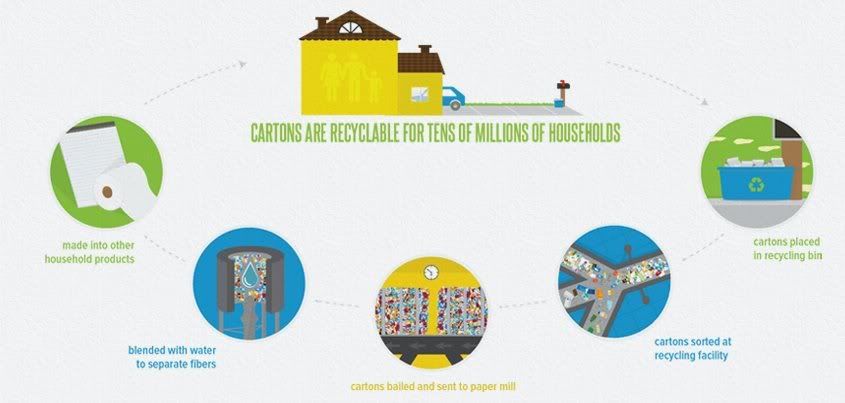 Paper Cartons
Evergreen has taught me a lot about how the packaging we choose makes a difference. I love that you can repurpose cartons for crafts and other fun activities.
The paper fiber contained in cartons is very valuable. Recycled cartons are used to make products such as office paper, wall boards and other building materials. To learn if your community accepts cartons for recycling, please visit www.recyclecartons.com.
Evergreen Packaging is a global leader in creating fiber-based packaging solutions customized to deliver product freshness and brand distinction. Evergreen Packaging is a vertically integrated packaging company, delivering total solutions of barrier paperboard, technical expertise, equipment and service.
Evergreen Packaging cartons have the eco-friendly attributes consumers want: more than 70 percent of the carton is made from paper derived from a renewable resource: trees. Cartons are also recyclable for an increasing number of households. In addition, our cartons are made with renewable energy – over 50% of the energy used to make the paper in our carton comes from biomass.
For more fun, and great tips, like Evergreen on Facebook and follow them on Twitter.
Fridge Hunt
Just to see exactly how much we are contributing to the world's waste problem, I went on a Fridge Hunt! Our fridge is mostly packed with fresh fruits and vegetables, since we are vegetarians. We have a gallon of skim milk, which is in a plastic carton, condiments, and some butter. We have a few paper cartons as well (small milks for the kids, iced coffee for me!). I know paper cartons keep food fresh, and I actually prefer them over plastic whenever possible.
Moving Forward
Moving forward, I want to continue to teach my family to think about what the packaging is like when we choose a food we like. Is this package recyclable? Is it going to end up in a landfill for years and years, taking forever to break down? Is there a better alternative?
By recycling, you are conserving energy and natural resources as well as protecting the environment.
How YOU Can Help
Every carton fact shared, via Twitter, using the hashtag #choosecartons will help raise money for Habitat for Humanity®. For more information, visit www.choosecartons.com
I wrote this review while participating in a campaign by Mom Central Consulting on behalf of Evergreen and received a promotional item to thank me for taking the time to participate.