I have lots of friends that are getting ready to send their kiddos back to school, so I get to watch (and learn) from them. I know it won't be long before I'm doing the back-to-school routine with Levi (heck, next week he'll officially be a preschooler! When did THAT happen?)
As I've been watching everyone do their school clothes and supply shopping, I can't help but think of the local school district my company partnered with this year. I had no idea, but over 200 kids in our small school district are homeless. Many of them are independent minors, meaning they don't even have a family support system to rely on.
For our company's annual ethics & compliance training day back in July, we decided to give back through a team activity and stuffed over 50 backpacks full of school and hygeine supplies to be distributed to kids in need in our community. Right now, we're also holding a school supply drive and collecting donations to help out more kids in need.
That's why it warms my heart to see that the Boys and Girls Club of America has teamed up with Disney to launch the Tools for Back to School initiative. It's a pop-quiz style game where supplies are donated for every 5 correct answers you score. (Don't worry, the questions are SUPER easy.)
Ready to make a difference?
Click HERE to donate school supplies JUST by playing!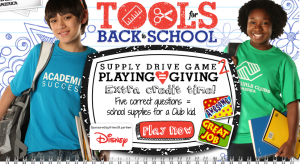 You can make a difference while you're getting the kids ready to go back to school, too. Boys and Girls Club of America has also partnered with JCPenney this year. Throughout August, you can join JCP Cares and round up your purchase at the register to benefit BGCA.
All this giving makes me happy. Even Boys and Girls Club of America is getting in on the giving spirit – they have educational content and tip sheets for parents to download free from their site (you can find them on the left side of the page).
I really like getting involved, and between BGCA, JCPenney, and my company's local efforts, I feel like I really can make a difference.
Are Your Kids Ready To Head Back To School?
I wrote this review while participating in a blog tour by Mom Central Consulting on behalf of Boys and Girls Club. I received a promotional item to thank me for taking the time to participate.