I kind of love my friend Amanda. I tell her how overwhelmed I am with redecorating and remodeling the house, she offers to write a guest post for me. (She's a freelance writer, so it's totally win-win). She thought that since I was blogging from my bathroom last week, she would continue with the bathroom theme. I think she's secretly making fun of me because she knows that with pink tile five feet high all around my one small bathroom, I can't actually follow any of her tips. But I sure can dream!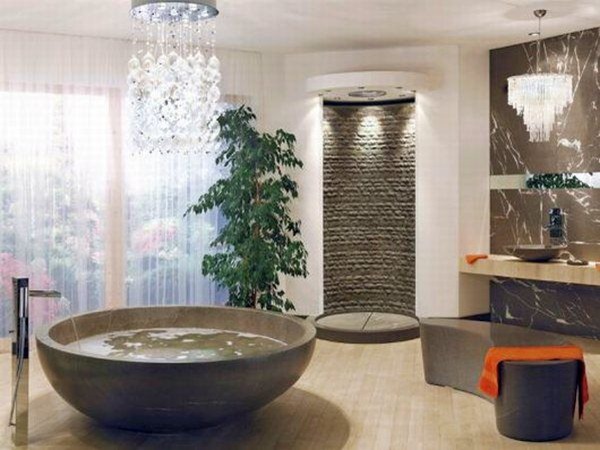 Redecorating Your Bathroom
If you want to redecorate your bathroom, there are many options that are available to you. Your home décor should be something that matches your unique style. But no matter what tastes you have, you will certainly find the accessories and furnishings to turn your bathroom into a much more beautiful place.
You can often find everything that you need at local stores, such as home renovation and hardware outlets, but if you want something special or don't like what you see in stores, websites such as premierevanities.com sell plenty of bathroom furnishings in different styles, such as antique, wooden and modern.
One of the most common renovations that people make in their bathrooms is the tiles. You can find these in many materials, colors and designs. But one type of bathroom tile that is becoming quite popular these days is the antibacterial tile.
While it doesn't kill microbes by itself, once artificial UVA light or natural sunlight hits the tile, the materials contained in it will cause a chemical reaction that kills nearly all bacteria and viruses.
If you're tired of the same old faucet, why not install a new one? A style that is popular these days is to install a faucet with a gold finish. This will give your bathroom a very luxurious and classic look. Of course, most of these faucets aren't actually made of gold, but if you happen to have five figures to spend on a faucet, you can get one made out of solid gold too.
One new trend in bathroom redecoration is putting in a floating vanity. No, it doesn't float on water, it's just installed a foot or so off the ground and is mounted on a wall. These vanities are available in different colors, however white seems to be in style these days.
When doing a bathroom renovation project, you will first need to determine exactly the look that you're going for and then finding the materials that will allow you to make the project go forward. Regarding installation, you have two basic options. If you like home improvement projects and are a "Do It Yourself" kind of person, then you can take care of installing everything by yourself.
Usually there is just a few hours of work involved. Or if you would like, there is always the possibility to hire a professional contractor who would do the installation work for you.
What Does Your Dream Bathroom Look Like?