Earlier this summer Mykl & I ran our first race together – the Birdtown 4k. This month we switched to something a little more our speed – the Bacon Chase .05k.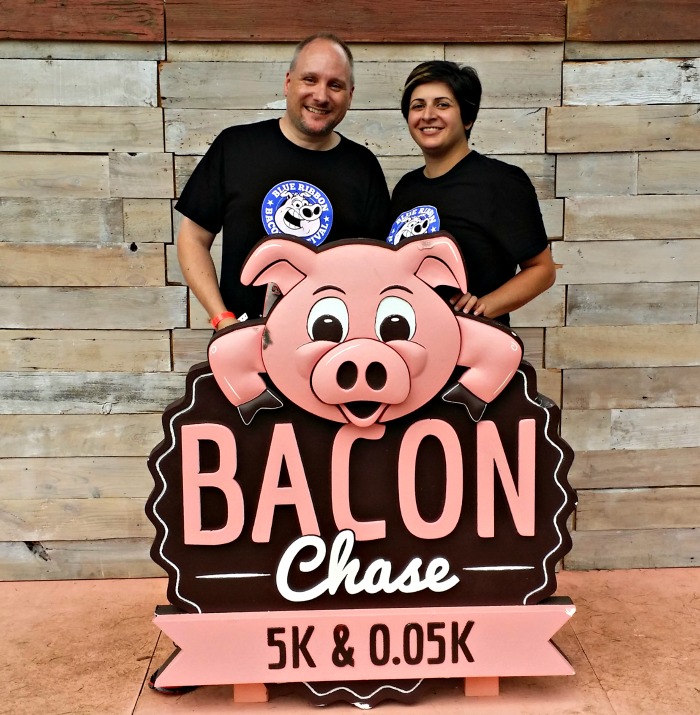 Yes, that's right –
point
zero
five k. AKA approximately 164 feet.
I'm pretty sure we got way more of a workout rushing from the car to the start line. But we had to go – there was bacon waiting for us!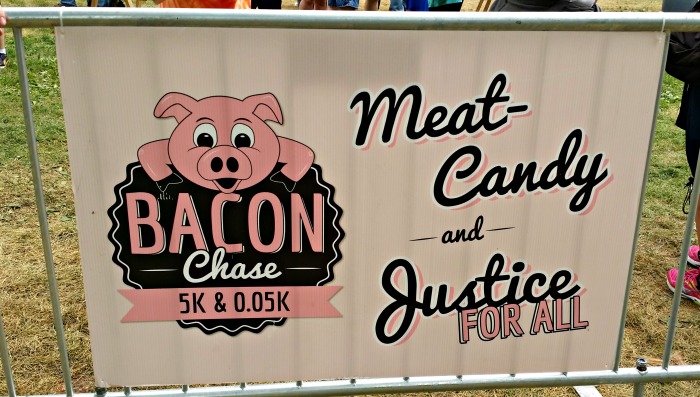 The Bacon Chase sounded great on paper, but was obviously going through some growing pains in their first year. For starters, the event was held at Lake Nokomis, which is a really large area currently surrounded by tons of road construction. Upon arriving, it was really unclear where the check-in and starting line were. Our parking spot wound up being a 20 min hike to the registration area.
Once we found it, things started looking up. There was a festival atmosphere, with a DJ playing and plenty of spots for photo opps. Check in seemed well-organized, and they were running the participants in waves to avoid crowding on the track.
The next part, though, was a serious letdown. The big draw for the event was the promise of unlimited bacon at the finish line. Now, I didn't expect unlimited bacon, since that's quite a hefty feat for over 2,000 registered participants, but I did expect SOME bacon. After Mykl and I crossed the finish line, we learned they had already run out of bacon.
The Bacon Chase ran out of bacon.
No bacon = super sad Jen.
They did still have Bloody Marys for runners over age 21 (the registration fee also included one free one for each participant). There were different flavors and they were a bit watered down, but it was still a nice touch. Plus, it was garnished with bacon, so I finally got at least a little taste of what I had signed up for.
The best part, by far, was the mechanical pig. That alone was worth going. Mykl and I both took a turn trying to ride it. I kicked his ass and lasted about twice as long as he did. There's video proof, but I promised he could look it over before I post it.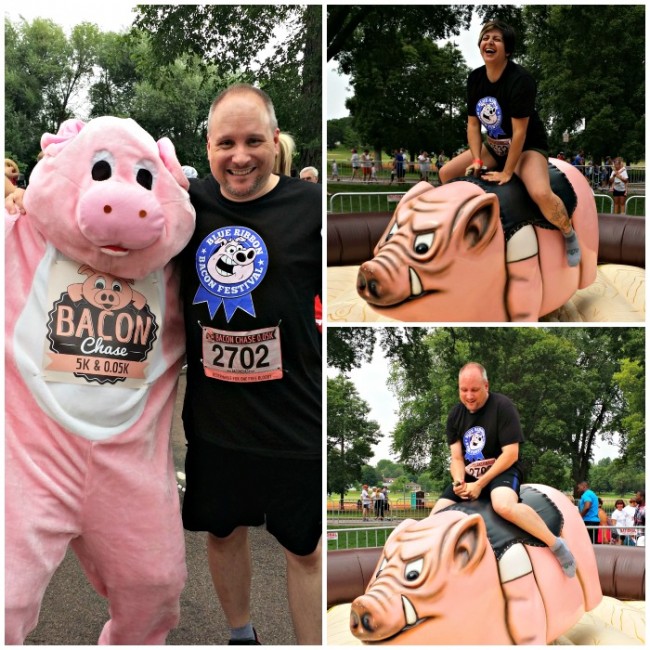 Although it wasn't what I expected, we still had a fun time. The event raised a ton of money for St Jude, which is awesome. I heard other cities were better planned out and participants had a great time.
If they do it again next year, we'll be sure to get there early so we can park closer and actually eat some bacon.