Trying out a new detergent can be hit or miss in our house, since both Jason and Levi have sensitive skin. We put Arm & Hammer® Liquid Laundry Detergent Sensitive Skin Plus to the test and were pleasantly surprised at the outcome. I was worried about the fragrance causing an eczema flare up for Jason, but it didn't bother his skin at all. My clothes were clean and smelled fresh without the scent lingering too long. Arm & Hammer made our laundry routine stress-free and that makes it worth its weight in gold.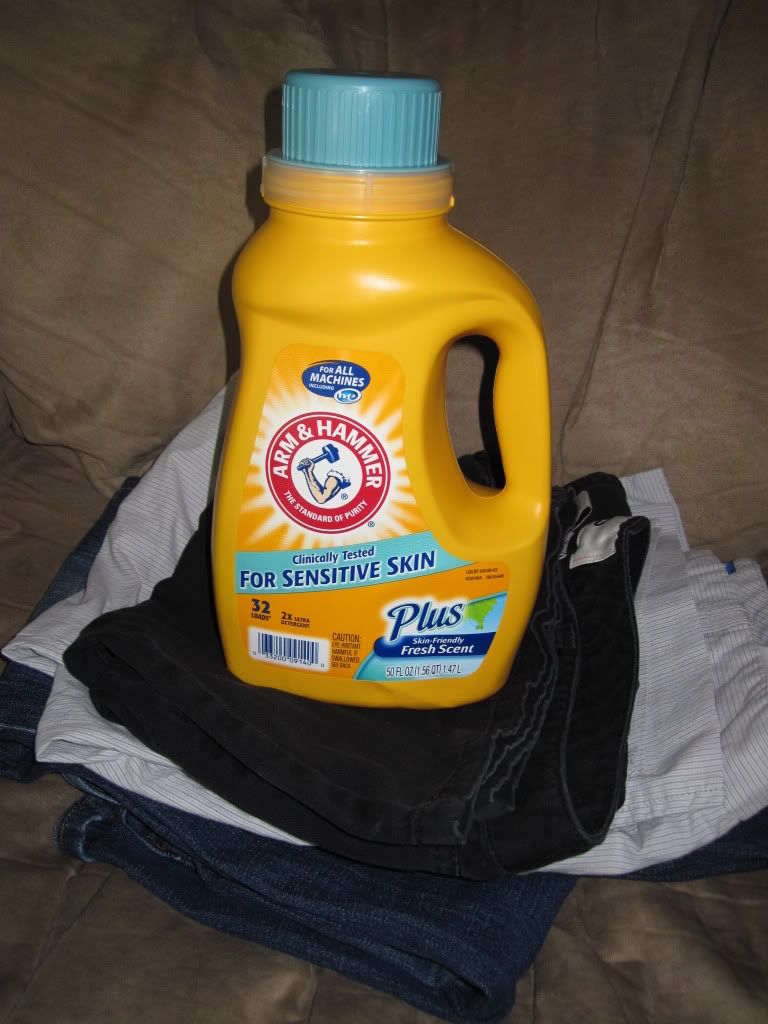 Levi's skin was fine, too, though we do wash his cloth diapers with a special cloth diaper laundry soap, so I can't really comment on how it might affect the diaper area (finding a laundry routine with cloth diapers is really tough, so I didn't want to go through the trial & error of trying a new detergent for those).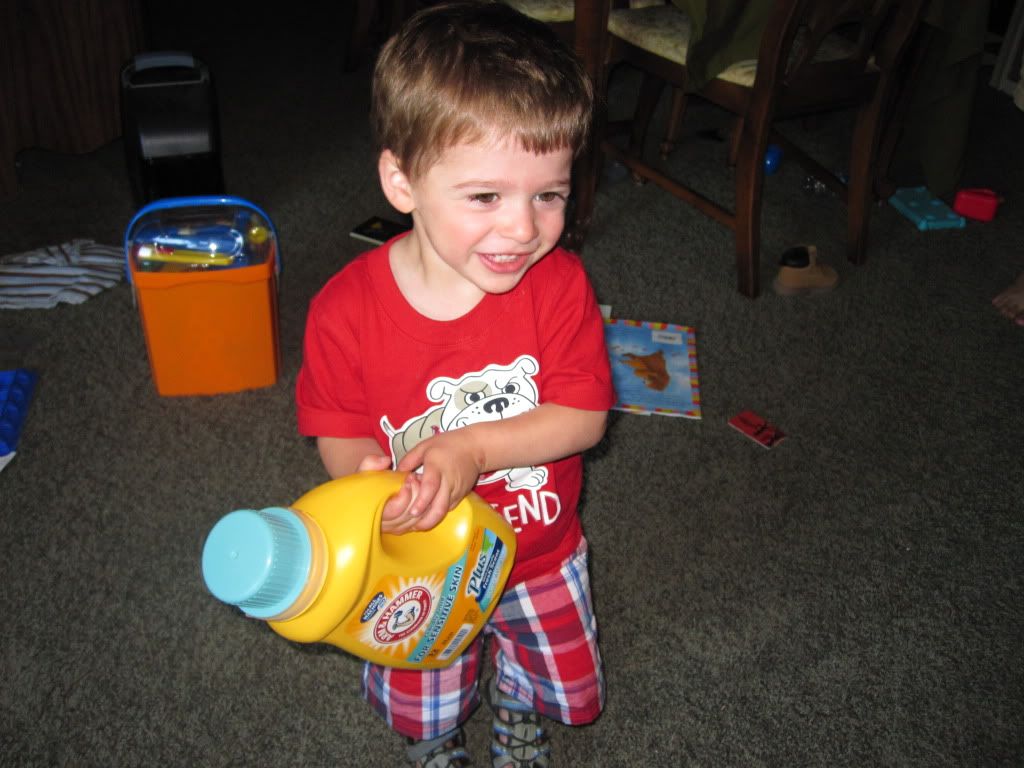 The photo above is of Levi getting ready to help Jason with laundry – he was in charge of carrying the soap downstairs to our washer & dryer. He loves to carry stuff up and down from the basement. Jason does the majority of the laundry (I know, I know, I would totally fail at being a housewife) and we generally prefer liquid over powder detergent, since that seems to rinse cleaner and leave less buildup on the clothes.
We have an HE front-loading washing machine, so I always only use half the amount (or less) recommended on the bottle when I use non-HE-specific laundry soap. Even though I used way less than the directions said to use, my clothes still came out clean & smelling fresh. I'm sure that not only helps stretch my budget, since I'll get more loads out of a single bottle, but it also helps me make sure we're not using too much soap that could leave a residue that would cause skin irritation.
When you have sensitive skin, it's important to use laundry detergent specifically designed for your family's needs. Harsh chemicals, scents, and dyes can cause rashes or eczema flare ups, and that's something nobody wants to deal with! You can find out more about the Sensitive Skin Plus line on the Arm & Hammer Facebook page. Their wall is always open for questions and comments, like which product line would work best if you have hard or soft water, sensitive skin or allergies.
Do you use scented or unscented laundry soap?
I wrote this review while participating in a campaign by Mom Central Consulting on behalf of Arm & Hammer and received a product sample to facilitate my review and a promotional item to thank me for taking the time to participate.