Did you know that last year, 3.1 million Americans were the victims of smartphone theft? That's not even counting thefts for laptops or tablets.
For the month of August, I've partnered with Absolute LoJack, an industry leader in smartphone tracking software, to help increase safety and security so that folks like you and me can rest easier at night.

Just before Levi was born, I had my laptop stolen. The crazy thing was, it didn't even happen to me. I had been having trouble with my Macbook, so a friend offered to take a look and see if he could troubleshoot the issue. While he had it at his house to run some diagnostics, his house was broken into. The thieves stole mostly electronics – his netbook, his wife's camera, and my Macbook.
Back then, I was mostly concerned about the replacement cost of my laptop. I was taking college classes at night and needed a reliable computer for school. I had a desktop computer, but it was a PC and didn't have the same software my Macbook did that I needed for assignments.
At the time, I didn't have a lot of personal information on the laptop, since I mostly used it for school. Identity theft crossed my mind, but it wasn't a huge concern. Despite filing a police report, my friend's stolen possessions (and my Macbook) were never recovered.
If that same thing happened to me today, I'd be in a panic. There's so much more personal information and data at stake.
Like many folks, I use multiple devices for personal and business use. I have my laptop, where I do the bulk of my blogging and bill-paying. My smartphone, which I use to stay on top of email and connect to social media networks, and my tablet, which I use for a little bit of everything. All 3 of these are backed up to the cloud so I can access the info I need no matter where I am or what device I'm using.
That easy access means something else to thieves. If they steal one of my devices, it's not just the information on that device that's at risk. Suddenly it's possible they could have access to everything.
I'm a little sick just thinking about it. Mykl chastises me all the time that I don't have strong enough passwords. All it would take is one lucky guess (or more likely, a couple hours using a program that cracks passwords) for a thief to have all of my info at their fingertips.
That's where Absolute LoJack Uncovered comes into play. They've designated August as Device Theft Awareness Month. In partnership with them, I'll be sharing behind-the-scenes information from their Investigation & Recovery Team (a group of forensic experts and reformed tech thieves) to help spread awareness about the inner workings of device theft.
For crime prevention info and tips, be sure to follow hashtag #AbsoluteUncovered on Facebook, Twitter, and Google+.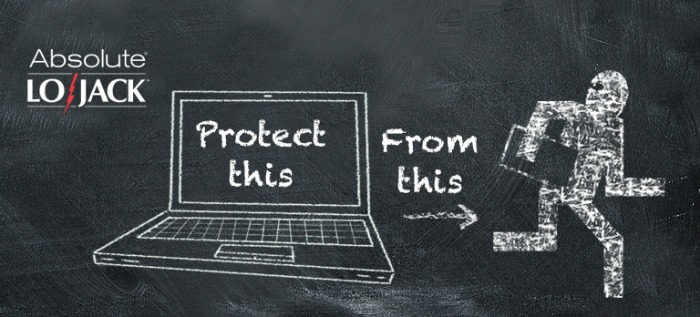 About Absolute LoJack
Absolute LoJack uses advanced patented technology to keep your data secure and recover your device if it's stolen.  Absolute LoJack's theft recovery software for laptops, smartphones and tablets can withstand a factory reset, installation of a new OS, even a complete hard drive replacement. In every instance, the software rebuilds itself and provides a constant link between owner and machine. Couple that with the highly skilled Investigations team and you've got the best chance at getting back your stolen smartphone, laptop or tablet.
With Absolute Data Protect, you're able to determine the location of your missing device, lock thieves out of your machine and permanently erase files protecting your information and preventing identity theft.
Reader Discount
Now through August 31st, 2014, you can receive a 30% discount off a 1-year Absolute LoJack Standard or Premium subscription. Just enter UNCOVER30 at checkout to have the discount automatically applied to your purchase.
Disclosure: My partnership with Absolute LoJack includes a complimentary subscription and other consideration. All opinions, as always, are my own.