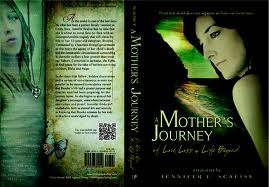 When I started reading this book by Jennifer L. Scalise, A Mother's Journey of Love, Loss & Life Beyond
, I wasn't 100% on board with it because of how much it spoke about religion and God. I don't usually read books that involve these things, but I'm really glad I stuck this one out because it turned out to be a good book about a very heart wrenching (and heart warming) journey.
In July 2009, Jennifer and her children were vacationing in Costa Rica. On a near-perfect day, as described by the author, at the end of an ATV tour, 12-year-old Brooke missed a turn and drove off a 260-foot cliff. Jennifer came upon the scene within seconds, and her life changed immediately and irrevocably. Brooke was gone.
Jennifer Scalise and her daughter, Brooke, had a very special relationship – one most mothers and daughters can only dream of. Reading Brooke's story helped me with a lot of feelings I've been having lately and I think it came at the perfect time in my life. Sometimes it's hard dealing with the kids (I'm sure you guys know that!), and I find myself getting upset over little things. Brooke's story helped me realize, more now than ever, that "don't sweat the small stuff" are words to live by.
I love the creativity displayed in this book. Some parts are kind of like a scrapbook. Family photos, drawings, and letters from Brooke all make this book unique.
While this is deemed a must-read for any parent who has lost a child, I truly think everyone should read it because it's not just about losing a child. It's about appreciating your loved ones while you still have them around because life is too short to do anything less.