These roast pumpkin seeds are toasted to perfection with a crispy shells and a slightly chewy inside that's delicious and satisfying.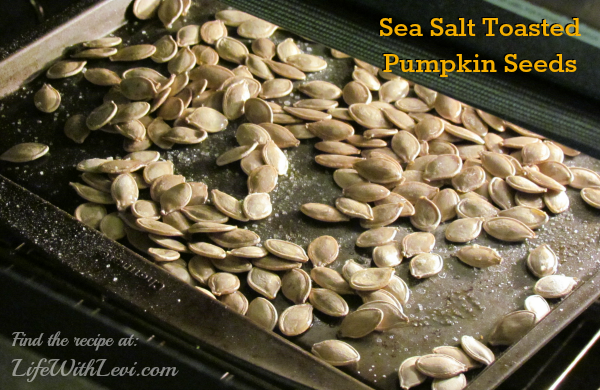 It's super easy to roast the perfect pumpkin seeds. After you've gutted your pumpkin to carve your jack-o-lantern or to make pumpkin pie, don't throw away the seeds! Float them in a bowl full of water for 5 minutes, then rinse them over a strainer in the sink to remove all the pumpkin flesh and strings.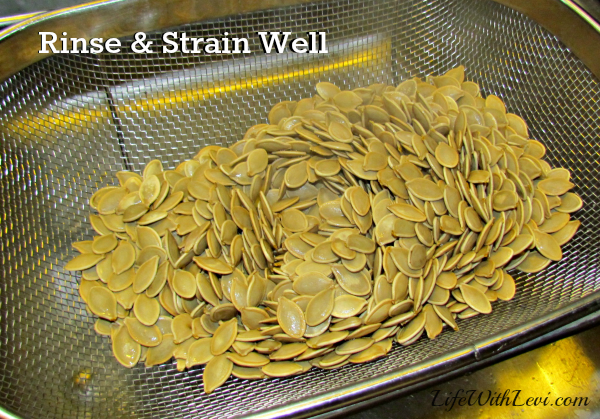 Once you've got your pumpkin seeds cleaned and rinsed, you're ready to go. Preheat your oven to 325 degrees and start boiling a medium pot of water salted generously (I use about 6 cups of water and 2 Tbsp of salt). Once your water has reached a rolling boil, add your pumpkin seeds and boil for 10 minutes over medium heat.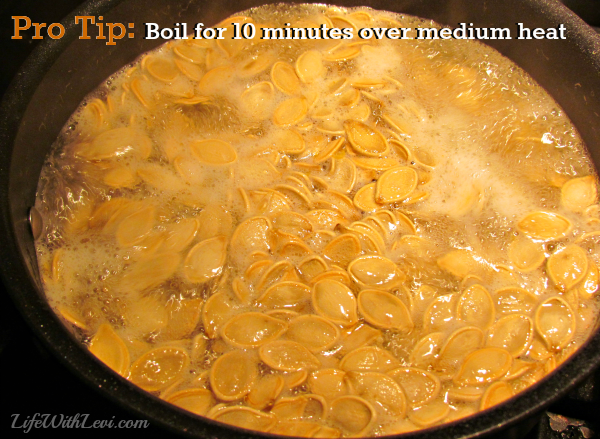 Dump the seeds back into the strainer and give them a quick rinse with cold water. Shake out as much water as possible. You can use a paper towel to help get rid of excess moisture – just be sure to shake out the paper towel as you go because the seeds WILL stick to it.
The next step is to lightly drizzle the seeds with olive oil (or grape seed oil). I find it's easier to put my dried seeds in a bowl for this step. Once they're coated with about 1-2 Tbsp of oil, spread them evenly on a baking sheet, trying carefully not to clump them together (a single layer bakes more evenly). Sprinkle with sea salt to taste (I use about 1.5 tsp per 9 x 12 baking sheet). Bake at 325 degrees for 10 minutes, remove to stir and add additional salt if desired, then bake for another 10 minutes.
If you prefer crispier roast pumpkin seeds, lower your temperature to 300 degrees and bake for 20 minutes, remove to stir/salt, and bake for another 15-20 minutes. This allows the inside to slowly cook more thoroughly all the way through so you have a crunchier snack when you're finished.
Allow to cool completely and enjoy! Be sure to store your roast pumpkin seeds in an airtight container.