This morning, I asked Mykl if he could handle cooking a pork roast in the crock pot. After some easy verbal instructions, I left for work. A couple hours into my day, this text message exchange happened.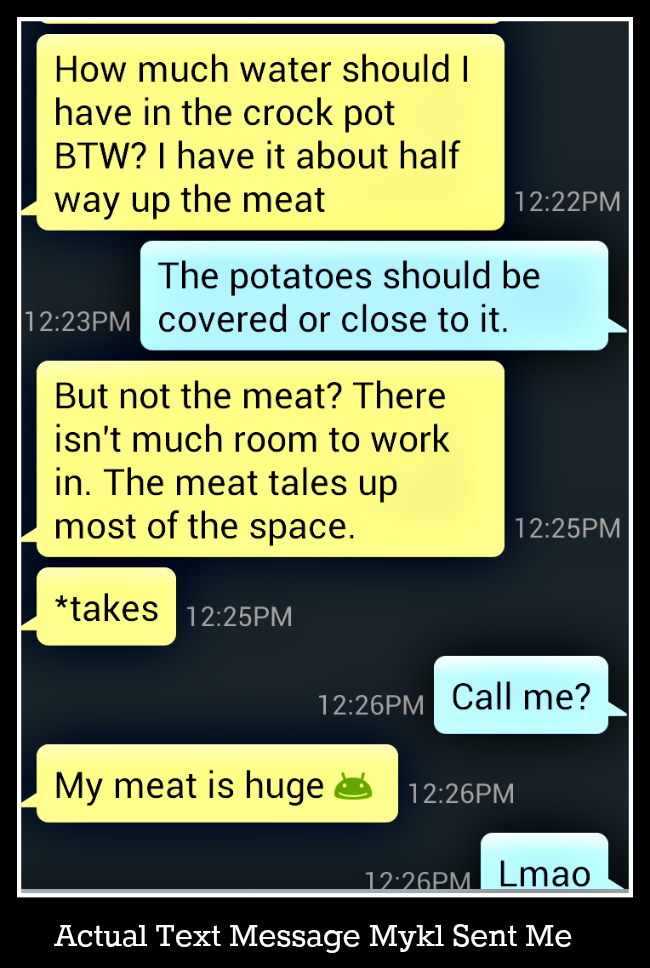 Of course, one joke isn't enough. He called me and I kid you not, this is how the conversation went:
Me: Good afternoon, this is Jen. 
Mykl: So I need help with my meat problem. It's huge, and I'm not sure I can handle it alone. You can help with that, right?
Me: (Bust out laughing)
Mykl: I can't help it if I have big meat. This is a serious issue.
Me: (Laughing harder)
Mykl: It's so big it doesn't fit into the spot it's supposed to. I've tried shoving it in as far as I can, but I think your thing is too tight.
Me: (Giggling)
Mykl: I figure if it gets hot and wet enough, that'll do the job. What do you think? Mother nature meant for these to go together.
Me: (Still laughing) I'm sorry honey, I've got to let you go. I'll call you back in a minute. 
I had to compose myself so my coworkers didn't think I'd completely lost my mind. And of course, I had to quick write this post before I forgot what he had said.
God I love this guy!