I participated in a campaign on behalf of Mom Central Consulting for Banana Boat. I received product samples and promotional item as a thank you for participating.
It's been a great summer for Levi and I. We've enjoyed the warm Minnesota weather at the splash park, at the beach, and in our backyard, as well as all around town at different festivals and events. Of course, lots of time outside means lots of sun exposure, so it was only natural that applying sunscreen would quickly become a familiar part of our daily routine.
By making sunscreen application a daily ritual, Levi quickly adjusted to including it as part of our morning routine. Whether we're getting ready for daycare or heading out for a weekend of fun, we always put on sunscreen before we leave the house.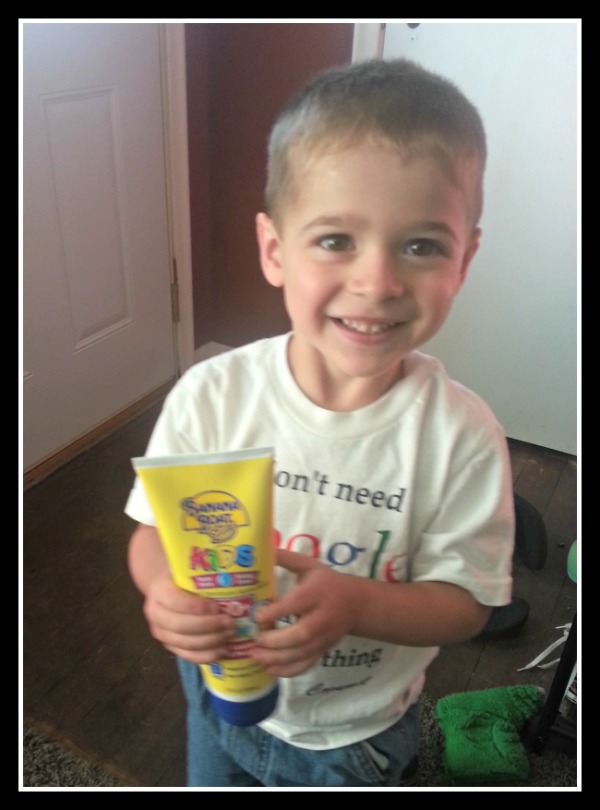 Our daycare provider is big on sunscreen, too, which I appreciate since I want to keep Levi safe from sun damage. She asks all parents to apply sunscreen before dropping their kids off for the day since most are supposed to be applied at least 30 minutes before sun exposure. That way, if they go out to play right away, everyone is all set and ready to go.
Banana Boat has a full line of creams and sprays to cover our sun protection needs. Since Levi has mild eczema, I'm partial to the Protect & Hydrate cream that combines sunscreen with a moisturizing lotion in a 2-in-1 formula. It comes in SPF 15, 30, and 50 (I get the SPF 50 for Levi) and lasts for up to 80 minutes. Even though it's water-resistant, we still apply every hour to make sure our skin stays protected from damaging UVA and UVB rays.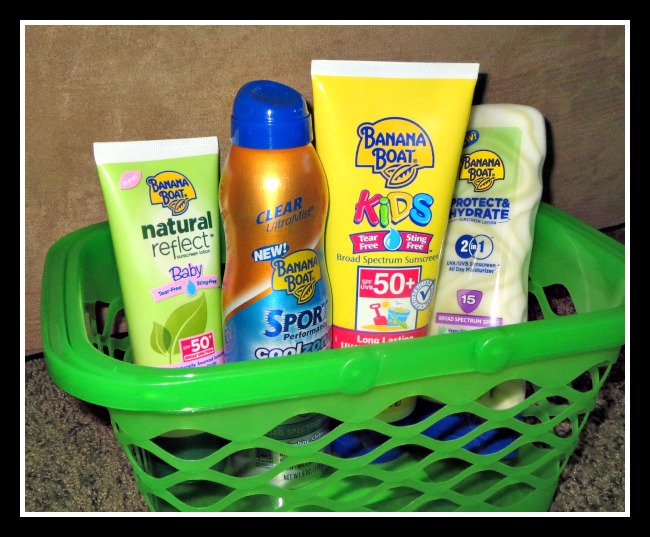 They have two formulas specifically designed for children. The Kids Tear-Free Lotion is SPF 50 and alcohol-free. Their Baby Natural Reflect Lotion is both tear-free and sting-free. It's fragrance-free and hypoallergenic for sensitive baby skin. Both have a creamy texture that rubbed into Levi's skin easily, and I really liked that they are tear-free, since Levi likes to shake his head and squirm a lot while I apply sunscreen on his face.
The finally one we tried is the Sport Performance CoolZone Continuous Spray. Also SPF 50, this spray sunscreen was a quick way to cover Levi when he was feeling uncooperative. I simply flipped his shirt up over his head to protect his face from the mist, and sprayed down the rest of him quickly and efficiently. I definitely prefer to use a lotion sunscreen on him, but I was grateful to have the spray available for fast applications. In my opinion, a fast spray down of sunscreen is MUCH better than no sunscreen at all.
Banana Boat sunscreen is available at most major retailers like Target, Walmart, and Walgreens. You can download a $1 off product coupon on their Facebook Page, and while you're at it, go ahead and "like" them for more great promotions and news.