Today's a big day – Levi and I are meeting Mykl's kids for the first time tonight.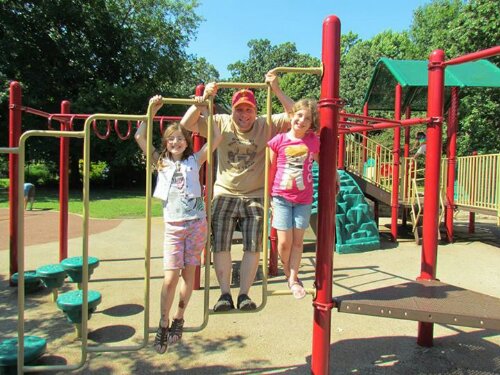 I'm excited and a little bit nervous. Not because I'm afraid they won't like me or anything like that, but because it signifies a really big milestone in our relationship. Meeting your partner's kids is a pretty big deal in my book.
Mykl has known Levi for quite a while now, so our relationship has been a bit unbalanced in that respect. It was a pretty easy introduction – Levi is my sidekick and goes to lots of local events with me, so it's pretty unusual for any of my friends to have NOT met him at some point or another. As Mykl and I started getting serious with each other, he spent more time around Levi, and the two of them have bonded.
Of course, now that Mykl lives with me, he obviously spends significantly more time around Levi. I know, I know, that's kind of big news. I was debating whether or not to do a blog post about it, but wanted to wait to see how that transition went before putting everything out there. We had already talked about living together being a possibility down the road at the beginning of summer, but wanted to see how our relationship progressed before making any big decisions. When Hot Roommate Mike decided to move out, we talked it over more and decided it made sense for us to give it a shot. So Mykl moved in when he got back from his road trip at the beginning of August.
Given that we live together now, it made sense to both of us that it's time for me to meet his girls Matilda (Tillie, 11), and Lucy (8). Mykl is more recently separated than I am and his girls are older than Levi, so he's spent the summer slowly introducing them to the idea that Daddy has a girlfriend. They've seen photos of Levi and me, and now tonight they'll get to meet us both.
In anticipation of questions of how living together works without me having met his kids – Mykl and his ex-wife houseshare so that his girls have consistency through their parent's divorce. They get to keep the same living environment this way, and just swap out which parent is there depending on whose week it is to be with them.
His house-sharing has benefited our transition into living together, because Levi and I still get large chunks of time together by ourselves while Mykl is with his girls, and it allows us to take our time making sure all the kids can be familiar with each other before the girls start staying over at our house. The current plan is once the school year starts and homework routines are established, the house sharing will move to a more traditional 50% time with mom and 50% time with dad at their respective houses instead of their current house-sharing set-up.
So really, tonight is one big step of many that are coming this fall. I'm really excited about it, though. After all the photos and stories Mykl has shared about Tillie and Lucy, I can't wait to finally meet them. I know they're really excited to meet Levi, and it'll be great to see how all the kids interact together. We're bringing them all to a big indoor play place so they can run around and explore and have a fairly low-key introduction.
Wish us luck!
Update: It went great! The kids all had a blast and I fell asleep next a pretty awesome guy. I call that a fantastic night.