This is what happens when I mention daydreaming about running away to the Caribbean with Levi and spending our afternoons homeschooling from a hammock – my friend Amanda writes a "how-to" to get me motivated to hurry up and win the lottery.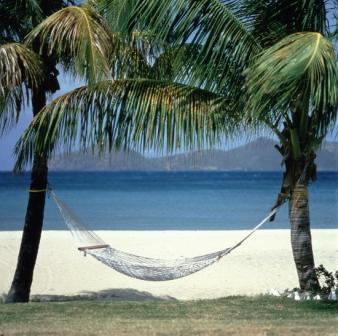 Whisking away to a tropical island, digging your toes into the sand, exploring the local culture, food, and traditions – if you could visit anywhere in the world, where would that be?
Better yet – if you could stay for a while, how much fun do you think you could have?
Planning an extended vacation is the dream of many and can become a reality if everything locks in place. As long as you have the will to uproot and explore new places, you will have the drive to do whatever it takes to enjoy traveling.
Before you start drowning yourself with pictures of your dream destination, let's come back down to Earth  for a minute and think things through to ensure everything goes off without a hitch.
1. Plan Ahead
When planning your trip you are inevitably going to forget a few things. That's ok, because you can make it part of the adventure. As long as you have the big items covered you shouldn't have a problem fully enjoying yourself when you're on your extended vacation.
These big items include:
·  Cost and times of your travel
·  Accommodation and that everything is reserved
·  Finances (savings, insurance, safety)
·  Security (at home and while in transit)
Plans can change on a moments' notice, so travel, in general, is a lot less about trying to nail down every specific and instead more about just making sure that you can get there and have fun.
Things you may want to mention before you head out:
·  Let family and friends know you'll be off for a while
·  Put in that vacation request at work (or leave if you know you can find new work when returning)
·  Check the availability of hotels and other reservations around your destination
·  Talk with your bank that you're traveling so they don't lock your card
·  Try not to announce it to the world to prevent any unexpected home invasions
·  Get in touch with the school if you're bringing the children
·  Read up on the local people, traditions, and events
2. Factor the Length and Expenses
Going off to an exotic location for many months on end means that you're likely still paying for your place back home, which isn't exactly ideal. It's especially problematic if you need to use that money in your travels.
One idea that you may want to keep in mind is to consider packing up, throwing it all in storage, and rebooting your dwelling once you've returned. You could source moving companies that will help with the process (so you don't break your back or need to rely on the "truck" friend) and have everything out in a relatively short amount of time. Then, once you've returned, you can bring it all back.
There's nothing worse than paying for rent and other utilities when you're trying to relax – you don't want that eating away at your fun so definitely keep this idea in mind.
3.  Get to Traveling
Hop in the car or get to the plane (does anyone do trains anymore?), buckle up, and get ready for the long-haul. Head off to your destination and turn the trip into an adventure of its own!
When you finally arrive, settle in at where you're staying and ask the front desk what recommendations they have about the local area. Locals know how to find those hidden gems that don't come up when doing research.
Then … hit the town!
Keep your mind open to new experiences, events, and people. Become part of the local community and don't be afraid to try new things. This is your vacation and you may not have another for some time so enjoy it to its fullest!
Take lots of photos and video, and don't forget to bring something back some fun momentos from your trip of a lifetime.