It's cold outside and Minnesota's covered in snow.  That means it's time to finish up Christmas shopping at the store… the germ-covered store.  Levi can sit in the cart that someone else's child sat in recently and put their germs on.  Then Levi can stick those adorable fingers of his in his mouth to feel his teeth or rub his eyes out of sleepiness.  Does anyone else see where this could become a problem?
Earlier this year, I showed you how in Summer Wet Ones were great for a situation we got into with a bare foot and squished bug.  Even though there's not much chance for that in the Winter, there's still a lot of things lurking that can make my little guy sick.  Along with that, he's a little mess-maker on his own.  Wet Ones, your job isn't done yet!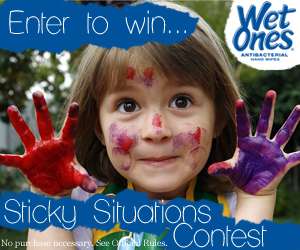 Wet Ones wants to hear about our Sticky Situations and get advice from us  on how we avoid and take care of those situations.  To sweeten the deal, entering your advice and stories can earn you prizes!  Up for grabs for sharing is an opportunity to be included in an e-book distributed by Wet Ones in 2013, an iPad Mini (valued at $300), and 3 runners up will receive a prize pack of 4 tickets to Six Flags.  You can submit entries through December 28, 2012.
I'm not sure which story to send them about Levi, but I can think of a few myself.  I can make huge messes when I try to be crafty with food and Mike did recently try to toss me out with the trash.  I'm sure that wouldn't have been very sanitary.  Do they make several feet long Wet Ones for me to protect myself with?
What "sticky situation" do you have that you could share with Wet Ones?
I wrote this review while participating in an Ambassador Program for Mom Central Consulting on behalf of Wet Ones and received a promotional item to thank me for taking the time to participate.