This year is my first time celebrating Valentine's Day as a single mom. Since I started dating again, I realized that having a little one at home adds a whole new element when you're seeing someone. It's very different when you already have a little boy that stole your heart.
Even though I'm not seeing anyone special right now, I thought it would be fun to come up with my top 10 Valentine's gift ideas for single moms (that are really good gift ideas for ANY mom.)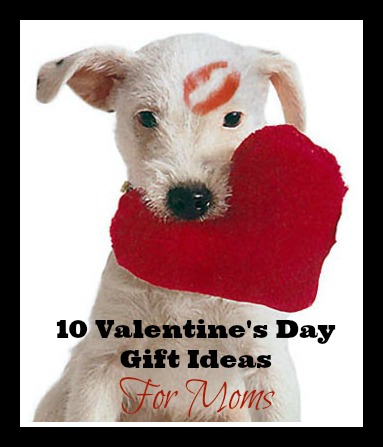 Valentine's Gift Idea #1: Grocery Delivery
I know, at first this doesn't seem very romantic, but it's at the top of my list. Have you ever wanted to cook a romantic dinner for your date? I have. And my least favorite part about that, aside from doing the dishes, is trying to take my 2 year old to the grocery store to shop for ingredients. It's a hit or miss experience – sometimes he loves to help me shop, sometimes he's totally not into it. A gift certificate for grocery delivery takes some of that stress off so I can put on my awesome zombie apron and rock out a delish meal for us to enjoy together.
Valentine's Gift Idea #2: Enlist A Babysitter
If we've been dating long enough for you to meet a couple of my friends, enlist one of them to help line up a babysitter before our next date. The friend part is important – most moms are picky about who they let watch their kids, so even though your friend/niece/sister might be an awesome person, if I don't know and trust them, I'm not leaving my son alone with them. Ask my friend who I normally use as a babysitter and if they're willing to share that person's information. Then give them a call to see what you can work out. That takes some of the stress off me trying to arrange childcare and I'll definitely appreciate that you took so much initiative.
Valentine's Gift Idea #3: Book A Couple's Massage
After a stressful day of work or chasing around a toddler, a massage sounds heavenly. It's a great way to relax together and is always appreciated.
Valentine's Gift Idea #4: Spa Gift Certificate
I want to look pretty for you, I really do. But right now, I'm lucky if I have time to shower and shave before going out on a date, let alone doing the makeup and hair routine. A spa gift certificate gives me an excuse to focus on relaxing and looking good for the next time I see you.
Valentine's Gift Idea #5: Make An Every Day Moment Romantic
Know I couldn't find a babysitter so I had to decline a date? Offer to stop over for a little while after bedtime. Pick up a carton of ice cream and a couple candles. Candles add a little element of romance and thoughtfulness, and ice cream is always delicious. Plus, I'm probably still wearing my yoga pants and don't have to get dressed up or find a babysitter to spend time with you.
Valentine's Gift Idea #6: Sexy Underwear
Just because I'm a mom doesn't mean I don't want to feel sexy once in a while. Yes, it's still ok to give single moms lingerie as a gift 🙂
Valentine's Gift Idea #7: Coupon To Play Mr. Fix-It
If you're handy, offering to help fix stuff around the house could be an awesome gift. Since there are some things I don't have the time (or desire) to learn how to fix myself, I often have to find a friend who can help or hire someone else to do it. If you're able to assist, offer! It'll definitely be appreciated.
Valentine's Gift Idea #8: Non-Kid Movie
This was a reader suggestion. I agree that you can only watch so many cartoons or Disney movies before you go insane. If you're taking me out, offering to help me sneak vodka into the theatre wins you brownie points.
Valentine's Gift Idea #9: Cook For Me
This should be higher on the list, but there was an incident years ago where a guy lit the stove on fire trying to make me falafel spaghetti that makes me a little leery of men trying to cook for dates. I have a rule that if you attempt to cook for me, I will smile and be appreciative no matter what, unless you light the stove on fire. Then making fun is fair game. Also – falafel spaghetti is just as bad as it sounds. It's been 10 years. I figure I'm allowed to get that off my chest now.
Valentine's Gift Idea #10: A Mushy Card
Personally, I LOVE cards. Especially funny ones. I thought the one from my dog a couple years ago was hilarious. Since it's Valentine's Day, a card that makes me laugh AND has a sweet and/or funny note would totally make my day.
Bonus Get-Laid Gift Idea: Maid Service
Someone else to clean my house? That's sexy as hell and very likely to result in being pulled into the bedroom immediately.
Looking for other specialized Valentine's Day gift ideas?
Be sure to check out these lists from some of my awesome blogger friends!
10 Valentine's Day Gifts For Pregnant Women
Valentine's Day Gifts For Women Trying To Conceive
Top Valentine's Gifts For Your Paleo Prince Or Princess